1875 MAP OF CHELTENHAM AREA (PRE-DOGTOWN NAME AND AREA)
Full Title: (Pictorial St. Louis) Composite (By C.N. Dry, 1876)
Author: Compton, Richard J.; Dry, Camille N.
Date: 1876
Below the map are some comments to help you identify a few places.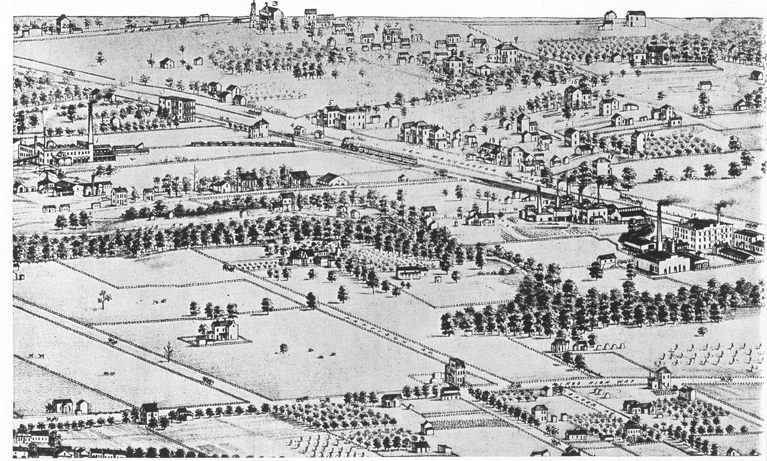 There is a cluster of three buildings in the upper right corner, the farthest, one white house and two small out buildings would be the Billion mansion. Just down from that in the corner and barely visible is a whitish looking place. That would have been the house of Paul Benjamin Gratiot's family, though Paul Benjamin himself had died 20 years earlier. Below that, the house in the cluster of trees would be the home of Dr. Charles Gratiot, a son of Paul Benjamin.
The top line of the photo is Tamm Ave. Just a bit left of center is a large cluster of building. That is St. James Church. At the south end of Tamm, near the "plate 97" sign, the larger of the two white buildings is the home of John O'Gorman, still standing at 1427 Tamm, it was built around 1852 and is one of the oldest standing frame homes in the state of Missouri.
If you look on the left side, down below the "plate 97", you will see a factory. This is the Lacede Brick Company and it was at the corner of Hampton (Billon then) and Manchester.
Immediately under that factory is a much smaller one. That was the Missouri Brick Co.
Toward the bottom right part of the map, along Manchester, but south of Manchester, as two very large factories. The top on is the St. Louis Schmelting Company which melted silver and gold ore into silver and gold. Beneath that is the very large Cheltenham Brick Works, which is actually the Evens and Howard Brick company.
From the train on the tracks, if you go to the back of the train, and across to the north side of Manchester, just where the letter "chester" are, you will see another small factory with black smoke coming from it. That is the Mitchell Brick Company.
If you go back to Tamm Ave. and note the huge nearly vacant square of land from Tamm and Manchester to Hampton to about West Park (Cheltenham Ave. then) that whole parcel was the Evens and Howard mine area. Thus it would today be Gregg, Graham (south of Wade), Sproule and even West Billon. It was all a huge mining area.
Back down along Manchester, at the FRONT of the train, across the street from the engine, and just west, are two large buildings sitting on the corner. One is Gittins' hotel and market, the other is also a hotel.
Just directly in front of the train engine and along the tracks is the Howard Station, the train station where the first train came to in 1852.
On the southwest part of Manchester, the largest building there, just on Manchester, the most westerly builiding, seems to be the Sulphur Springs Hotel, left over from when Sulphur Springs was a resort, but it would have been in bad shape by this time in 1875.
---
---
Bob Corbett corbetre@webster.edu