PRINCE OF DOGTOWN: AUTHOR REVEALS STORIES ABOUT LIFE AT 'CENTER OF UNIVERSE"
By Ellen Ellick
Photo by Dennis Caldwell
Southwest City Journal
March 5, 1995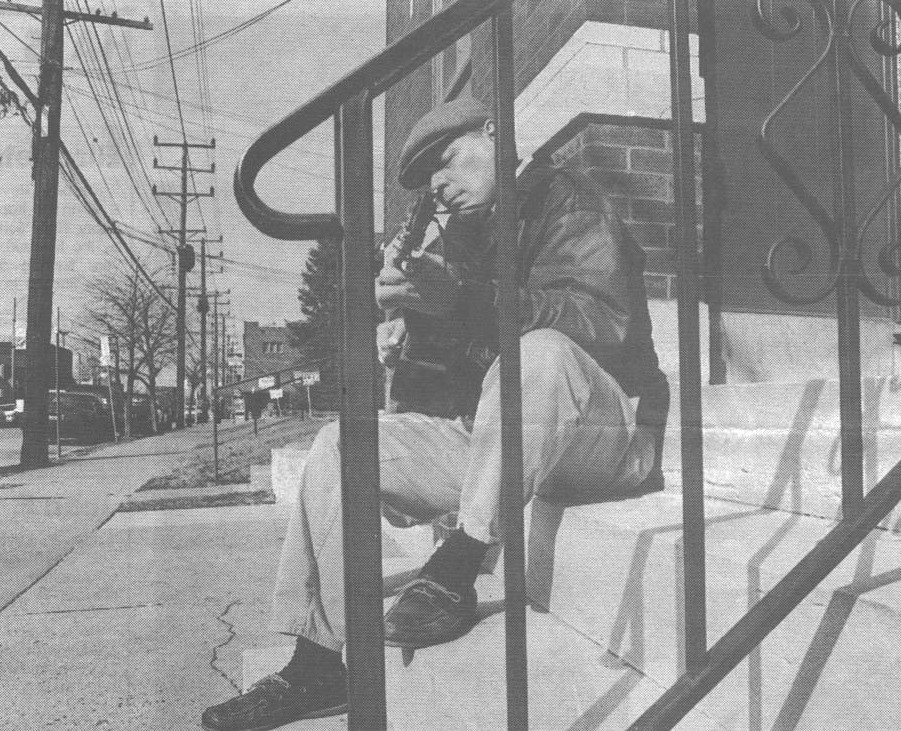 Charles Haller entertains others in the heart of Dogtown, an area he writes about in "The Prince of Dogtown.".
Charles Haller entertains others in the heart of Dogtown, an area he writes about in "The Prir of Dogtown." Dennis Caldwell
When the weather's nice or even just adequate, Charles Haller drags his old guitar out to the front stoop of the flat he lived in as a child and now shares with his wife and children.
As he picks out a tune, he takes comfort in knowing he is almost exactly at "the center of the universe - West Park and Tamm Avenue" - in downtown Dogtown.
That was the way he saw it as a child, spending happy- hours in his great-grandfather's bakery on the corner (the Kies Bakery, now Davis Sutton).
Haller's memories of his youth - and especially of Dogtown - are the center of a book he has written and published himself called "The Prince of Dogtown."
"Everyone's a prince in Dogtown, but I've got the copyright," he said with a laugh.
Haller said his book is "all true, except for some of the names I changed to protect the author."
The cover of the book states it is "a story of a young man ... growing up west of the West End and south of the Elephant House in St. Louis."
Haller will be at a "meet the author" evening at the Machacek Branch of the St. Louis Public Library at 7:30 p.m. March 15. The branch is at 6424 Scanlan Ave. at Watson Road. He also will sign (and sell) books in front of his home March 17, when he expects to draw buyers from those visiting Dogtown for the Ancient Order of Hibernians' St. Patrick's Day parade and other festivities.
After living in Soulard and parts of the county, Haller said he returned to his childhood neighborhood in the mid 1970s "for the ambience" and because he had inherited part of the four-family flat he now occupies.
He worked as a teacher, social worker, investigator and horse-shoer before he turned his attention to full-time writing and the book he said he had in his head for 20 years. Haller spent two years writing it, another year trying to find a publisher, then decided to "put my money where my word processor was" and publish it himself.
"Dogtowners always find a way," he said.
Haller said some of his fondest memories are of Dewey School and "the character of the people of Dogtown."
He explains Dogtowners thus: "Some people walk down the street like they think they own it. A Dogtowner walks down the street, and he doesn't care who owns it."
In Dogtown, he says, "It's important not to be hoity-toity. That's an important work in Dogtown. If you drive a BMW and you act like it, that's hoity-toity. It's OK to drive one; it's not OK to act like you do."
Haller said one of his favorite passages in his book is a description of him sitting in front of the bakery and feeling that it was "full of light and warmth and people, and was no evil in the world."
Now he sits in front of the building just north of the bakery and plays his guitar "to the people that are going to lunch at the upscale places we now have here that there's more to life than an $800 suit."
"The Prince of Dogtown" is available at Leftbank Books, Paul's Books and O'Brien's Dogtown Package Liquor (also located at the intersection Haller calls the center of the universe.)
---
---
Bob Corbett corbetre@webster.edu