DOG (TOWN) CATCHING
Five new homes in "Dogtown Village" built in rowhouse style
By Jo Ann Vatcha
Photo by Renyold Ferguson
St. Louis Post-Dispatch
January 12, 2003
Section G, page 1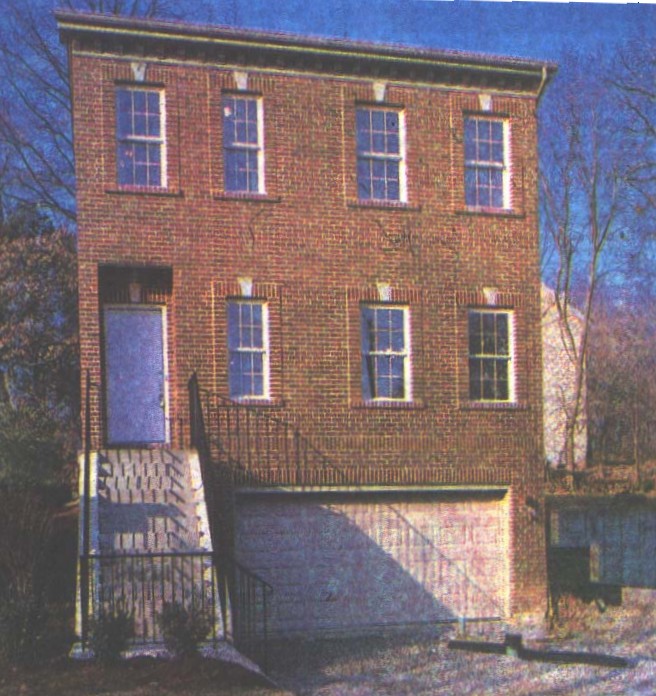 One of the first new homes at 2022-36 Prather.
Dogtown Village is a cluster of five new homes at 2022-36 Prather. The display home is open today (Sunday) from noon to 4 p.m. The homebuyer has a choice of two front elevations, both in brick, and can add other custom touches to these quality houses, priced from $199,000, with 10-year city tax abatement.

The design has the classic rowhouse look, but these are individual houses. The builder is Saaman Development, a real estate firm specializing in residential properties in the central corridor. The goal is a comfortable and affordable home with a great floor plan and a clear focus on security and convenience, immediately apparent in the two-car garage.

A two-story entry opens into a great room, complete with large windows and a spacious living area and kitchen set off by elegant columns rising to a 9-foot ceiling height. The main level also features a formal dining room and guest bath. Quality finishes include wood-style flooring throughout the main level and optional fireplace; while wood kitchen cabinets and a built-in microwave oven are among the standard amenities. The living area also opens up to a charming patio. The lower level includes an unfinished room for abundant storage/work area.

Upstairs, the master suite offers a walk-in closet and a true master bath with separate walk-in shower and double sink vanity. The design of the second floor provides a feeling of spaciousness and privacy, while carving out space for two more bedrooms, a second full bath, and a laundry area.

Many energy-saving and low-maintenance features have been incorporated into the homes, with insulated vinyl windows, high efficiency air conditioner and furnace, insulated exterior walls and ceilings, as well as Tyvek HomeWrap.

The homes are located close to Forest Park and just a short walk away from the tennis courts of Franz Park, one of the neighborhoods which comprise the area known to most St. Louisans as Dogtown. Among possible origins of this intriguing neighborhood name is the fanciful 1904 World's Fair story of tribal hunters raiding nearby residences for their preferred cuisine, or the more likely scenario of the Mid-1800s itinerant clay miners, who built squatter cottages and kept large numbers of dogs as watchdogs.

The plentiful land over the abandoned clay mines and the rapid population growth that came with building the railroad through the middle of America also led to Dogtown's patchwork of housing styles and interesting architectural variety.

Among Dogtown's great assets is the small town atmosphere, including its own town square at Clayton and Tamm, flanked by Lehman's Hardware and Chuy's Restaurant. The Hi-Pointe Theatre and Lindell Bank anchor the northern edge; other convenient businesses are located on nearby Manchester and McCausland. Lasting neighborhood anchors range from Turtle Park to St. James the Greater Catholic Church, founded in 1861, center for the community's own St. Patrick's Day Parade.

In the last few years, encouraged by the City's Community Development Administration, the Triad Housing Corp. and Alderman Tom Bauer, developers have built a considerable number of new houses on several key streets. Whether buyers look for a rehabbed home or a brand new one, they're likely to find it reasonably priced and convenient in a great setting in Dogtown.

For more information on the Dogtown Village homes, contact Carol Burns at Saaman Development, 314-727-6789, mail to:

Carol carol@saaman.com

To reach the site from Highway 40/64, go south on McCausland, left (east) on Mitchell, then right (south) on Prather.
---
---
Bob Corbett corbetre@webster.edu