HENSE GROCERY STORE
Two different photos of two different locations of Hense's market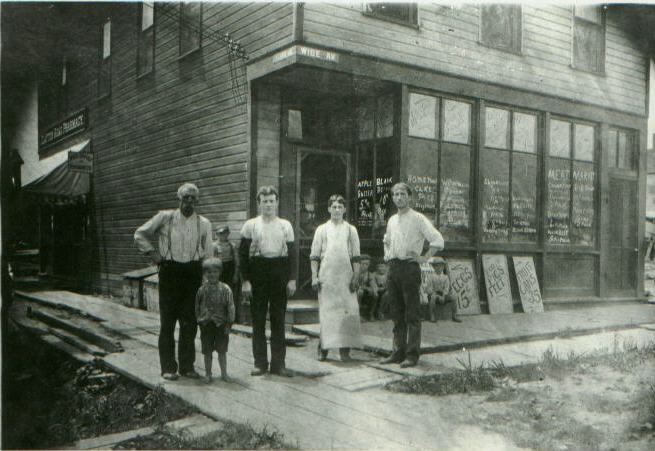 From left to right: William Hense (owner), Earl Hense (4-yrs old), Frank Hense, unknown employee, William II Hense. My dad told me the store was built from the lumber from the World's Fair
Information from Gary Hense
Bob Corbett notes: This is an early photo, when the store was actually on the corner of Tamm and Wade, the building that was later Lehman Hardware. This store opened in 1905 and was there just two years. Lehman's, on the other hand, opened in 1909 on the northeast corner of Tamm and Clayton and didn't move across the street to the 6400 Wise Ave. (current) address until 1910.
In his book HISTORY OF CHELTENHAM AND ST. JAMES PARISH, 1860 - 1937 BY P.J. O'Connor, he says the following about the store:

"In July 1905, Mr. William Hense, Sr. opened a grocery store at 6400 Wise Avenue, corner of Tamm and Wise Avenues. This was the first grocery store south of Forest Park and north of Manchester Avenue. The friendliness and generosity of Mr. Hense has made it continue with much success through these long years. Mr. William Hense, Jr. was a capable partner with his father up to the death of the latter. Having inherited his father's characteristics he always has a word of welcome for each and every customer. The store carries an excellent quality of fresh vegetables, fruits, meats and staple goods and also offers free delivery service."
P. 94.
The date of the photo from the Lehman's building linked above is not known, but in the full version of the photo in my files, the Hense Market Building next door is plainly seen and even the beginnings of the lettering.
Below is a photo of that later and for many living Dogtowners, more familiar Hense's store is is the one below:
The first and third men on the photo are the younger and older William Hense respectively. The other three people are not known.
---
---
Bob Corbett corbetre@webster.edu