FINAL DELIVERY
Neighbors and customers say a sad farewell to the Tamm Avenue Pharmacy, a Dogtown fixture
St. Louis Post-Dispatch
Everyday section G1 and G3
September 24, 1998

STORY BY LISA JONES TOWNSEL
PHOTOS BY JERRY NAUNHEIM JR.
Of the Post-Dispatch
Pharmacist Gene Meyers was moved by the constant stream of people who came by to pay on their accounts, pick up their prescriptions or supply say "hi" one last time. "When you've been in a place for 45 years there's going to be a lot of people checking in with you" he said in a low, shaky voice.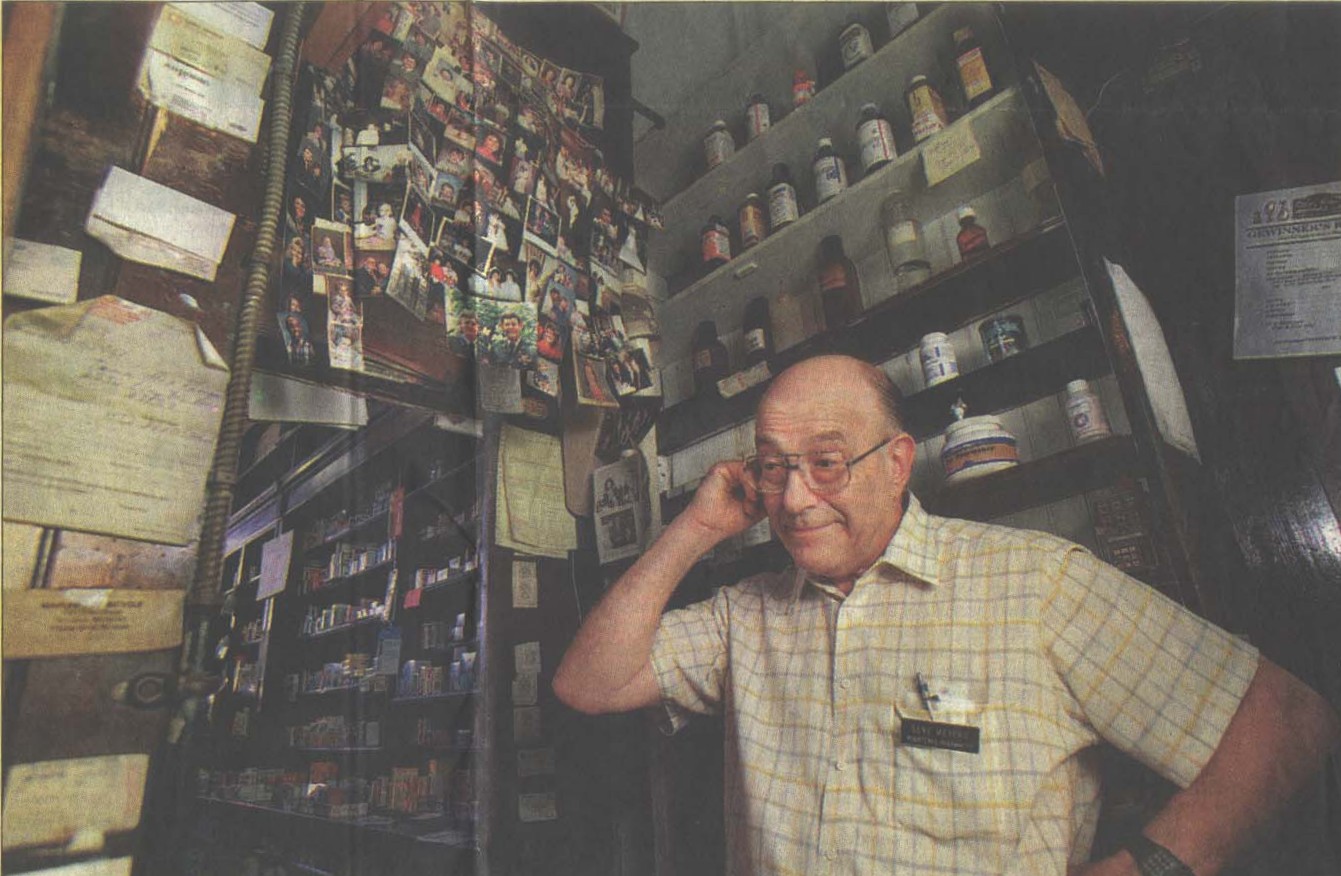 It is no surprise that throngs of loyal customers came to say their goodbyes to Gene Meyers, owner of the Tamm Avenue Pharmacy in Dogtown, this past weekend.
To Meyers' customers, the quiet, understated thin-haired guy was more than their pharmacist, he was - and is - a friend, an extended family member, a trusted medical confidante.
But last Saturday, Meyers, 69, closed the doors of his pharmacy and on a large part of history for this south St. Louis neighborhood, which had come to rely on the charm, the chatter and the efficient service provided by this corner store with small town appeal. A 1951 graduate of the St. Louis College of Pharmacy, Meyers started in the pharmaceutical business more than 45 years ago, first working for the pharmacist who owned the store. Then he bought the store, which has been a pharmacy since 1894.
But recently, Meyers decided to devote his life to nursing his wife of 48 years back to health. Carol Meyers, he said, suffers from severe heart problems.
"I've gotta take care of Mama now," Meyers tells a customer over the telephone. "Maybe when she's OK, I'll be back to work."
Although Meyers' customers respect his decision, they were visibly upset by the closing. For decades, they depended on him to deliver their medication in even the most inclement weather, explain the workings of various drugs, fix their watches (free of charge, of course), break their tablets in half, one by one. In essence, to go that extra mile.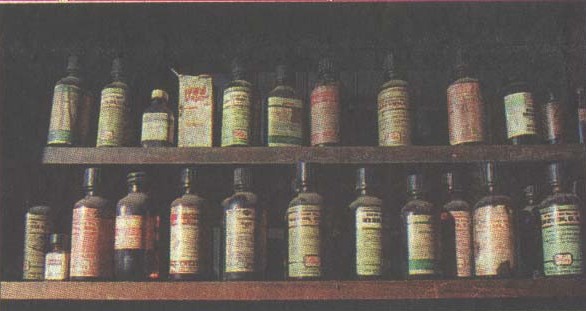 meyers kept vintage pharmaceutical bottles around to remind him of the old days. He has record books dating back to the 19th century.
In light of the diminishing numbers of mom-and-pop drugstores, Meyers' business was a welcome return to the way things used to be.
'My mom has been coming here since I was a little boy," said Richard Rapplean, 33, who dropped in to pick up a last prescription.
Longtime customer Mary Cariaga tried hard not to cry. "It's breaking my heart," she said of the store closing. "When my three boys would get a cut or bruise, they would go to see him before coming home to me. I don't know what the neighborhood will do. He's a mensch (an upright, honorable, decent person), as the Jewish people would say. He's a fixture. He's the most wonderful man I know.'
Alison Kocher works across the street at a violin shop. "Usually, I shop here for odds and ends that I could get from a grocery store," she said. "But I come here because I like talking to the people. This place is really going to be missed."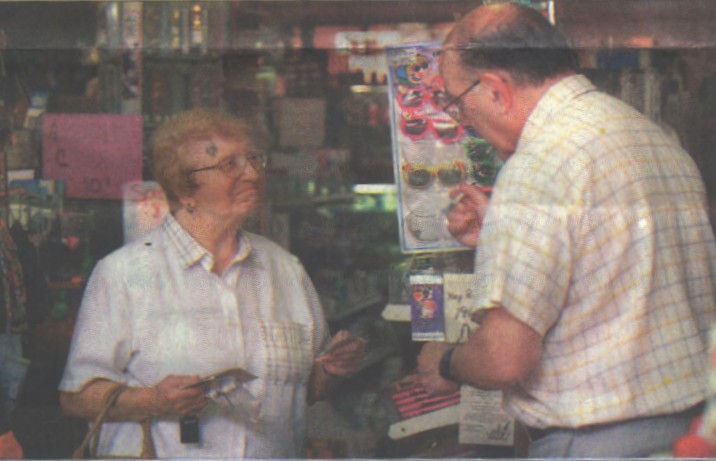 Esther Freedman say farewell to Meyers, who always greeted his customers by name. He used to give out his home phone number in case the customer had a question or need a prescription after hours.
"It's like I've known him all my life," added Audrey Bohannon of the Cheltenham neighborhood. "He was like our neighborhood doctor when we weren't able to get to one." Meyers was moved by the stream of people who came by to pay on their accounts, pick up prescriptions or simply say "hi" one last time.
"When you've been in a place for 45 years, there's going to be a lot of people checking in with you," he said in a low, shaky voice.
Unlike most large pick-up-and-go pharmacies, meyers' operation had a neat perk: delivery service, often provided by youths on bikes. Proud of their past and present accomplishments (many are now pharmacy students, athletes, military officers, etc.), Meyers keeps a wall in back plastered with their pictures, a shrine if you will, in their honor.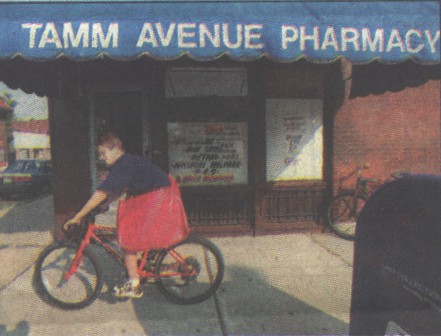 With a delivery bag slung over his shoulder, Derrick Cobb, 12, sets off with a last round of prescriptions for customers in the Dogtown area. The pharmacy, at the corner of Clayton and Tamm avenues, closed Sunday.
When no one else was available, the head honcho himself would drop off a prescription. Meyers pretty much knows where all of his longtime clients live.
"It's the corner house. Don't cross the street. She's at home, but she can't get around very fast, so don't rush her. Give her time to get to the door," he instructed Derrick Cobb, 12, before a recent run.
Simplicity reigned supreme at Tamm Avenue Pharmacy. Meyers kept his customers' prescription information mostly on large, handwritten index cards that he bundled in rubber bands in alphabetical order. Prescription labels were done one by one on a typewriter. A wire string hanging above the back counter held useful prescription information, insurance details and other miscellany. The only digital items include a microfiche machine, an adding machine, an apparatus that links the pharmacy with insurance companies and one to help him keep a tally of the day's prescriptions.
"If I'd open a store today, I'd keep some (information) on computer, but not all," Meyers says. "That can cause a lot of problems. But this way, I don't have to worry about downloading materials or breakdowns."
"My mom started coming here when I was born," says Maureen Taylor, who works the front counter and also helps with prescriptions.
"Altogether I've had three daughters to work here at some point," adds Kathy Kennebeck, who fills prescriptions, makes deliveries and does anything else that's necessary around the shop. Two of Kennebeck's sons served as delivery boys, too. (One is featured on Meyers' wall of fame.)
But today, it's a busy yet somber day at the store. Although the pharmacy closed last Saturday, the store will stay open until remaining merchandise - everything from cards, candy and toys to glass what-nots, romance novels and over-the-counter drugs - are sold.
All of the pharmaceutical supplies, Meyers says, were sold to a nearby Kmart store, which will continue to fill customer orders and make deliveries when possible.
"I've always just done the best I could," says Meyers, who hopes the Dogtown community will remember him as a person who upheld such values as trust and fairness. "I hope the people taking care of these people will continue to do the same."
Amanda Wolters, 4, and Frankie Conour, 2, try out one of the toy trucks available at Tamm Avenue Pharmacy.
==================================================
It's one,more blow to the mom-and-pops
The closing of the century-old Tamm Avenue Pharmacy illustrates a continuing trend away from mom-and-pop operations.
The National Community Pharmacists Association reports that of 1,001 retail pharmacies in Missouri, 576 are now independently owned, while 425 are owned by large chains. By comparison, figures from 1992 showed 1,071 retail pharmacies in the state: 673 were independently owned and 398 were owned by chains.
---
---
Bob Corbett corbetre@webster.edu