CLEM PLACKE'S SINCLAIR STATION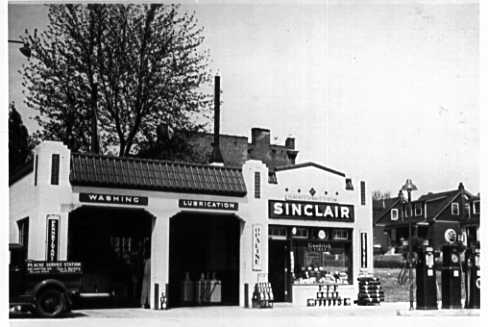 Certainly one of the most popular service stations in Dogtown, Clem Placke's Sinclair Station at Crescent and Hampton was a neighborhood institution. I can still see the scene when one pulled into the station. One of the men, Clem or an employee, would come walking out of the garage doors, a small red rag in hand rubbing his hands at chest high. You'd get a fill-up, windows washed, oil and water and tires checked and then put the gas on your bill. You were paying a full 18 cents a gallon when I was a kid, but I loved it that my dad had a charge account since I never had any money. Nonetheless, after I charged the gas I was sure to tell my dad that I did fill it up. I never said much about the charges!
In Father P.J. O'Connor's book he says this about Clem's work up until the 1937 publication date:
"Since November 1930, Mr. Clements (Clem) J. Placke has been operating a filling station at 6232 Clayton Avenue. Everyone knows Clem Placke for his congeniality.

"Mr. Placke was born in St. Louis, on Oct. 19, 1902. He attended St. James School, he is a member of the Holy Name Society of St. James Church, and he is one of the best workers in Catholic Action. Mr. Placke married Marie C. Brennan at St. Theresa's Church, and they reside at 6231 Victoria Avenue. They have one child, a girl. Mary Joan. Mr. Placke is a member of the Hetherington-Placke family. His mother will always be remembered in St. James Parish because of her assistance in times of sickness as one of the best Practical Nurses in the last two generations."
Clem closed that station in 1939 and moved to 1205 Hampton and ran that station until 1969.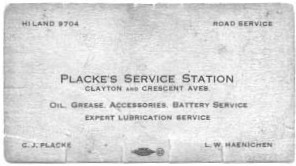 ---
---
Bob Corbett corbetre@webster.edu