JACK O'SHEA'S BAR
There are two photos of folks in the bar, and then a photo and story of a gambling raid in the 1950s.
Before Seamus McDaniel's there were several owners and names of the bar, but the founder and most famous period until now, was the period of Jack O'Shea's Bar, one of the favorite meeting places in Dogtown. I only have the names of a few of the folks on this photo, but it does include Jack O'Shea himself. Any help with other names would be appreciated.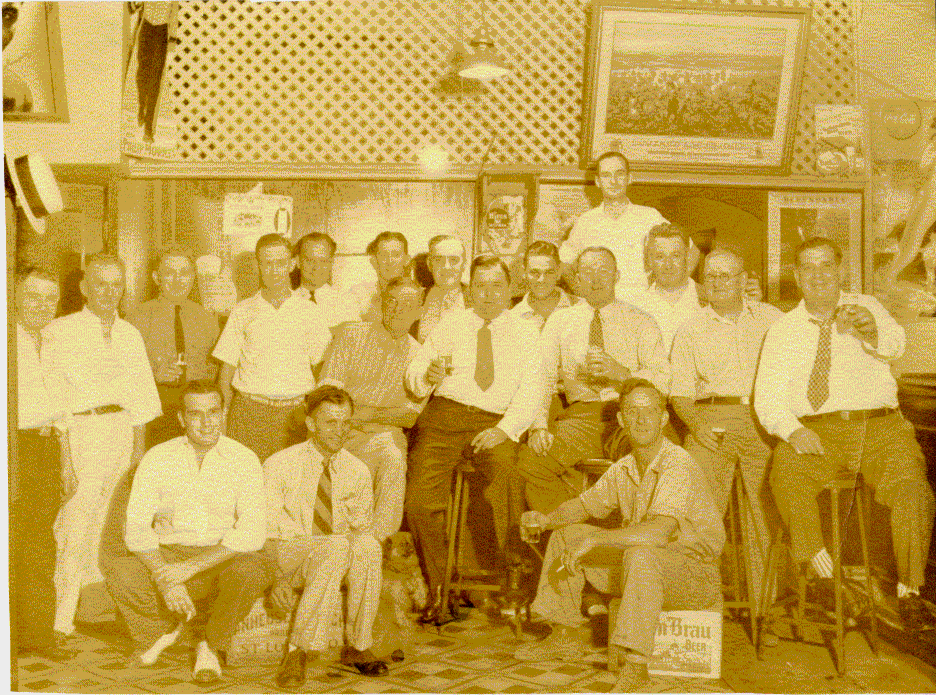 The bartender standing tall is Eddie Fannon.
Standing in front of bartender are: 1 to 5 unknown. 6. Red Corbett, 7. John Corbett, 8 to 11 unknown, 12. Jack O'Shea, 13 Pop Gallaher, 14 unknown.
Front row: 1. Bob Brady, (the next owner of the tavern when Jack O'Shea gave it up) 2......., 3. ... Duggan, 4. Jimmy Dwyer
Another O'Shea's photo is one I need help with the names.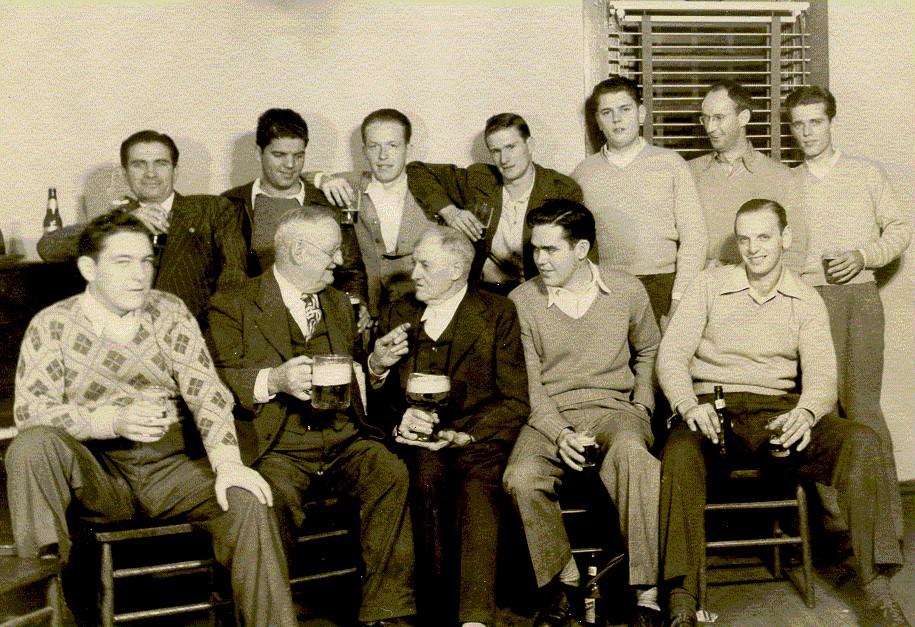 Standing: 1. Benny Sudgen, 2. John Eichner, 3........, 4. Don McMahon, 5. Bud Dwyer, 6. Francis Dwyer, 7. John Buckley.
Sitting: 1. Ray Kelly, 2. Pop Gallaher, 3. ..... Saxon, 4.... Dailey, 5. Herb Schmidt
Jack O'Shea arrested in gambling raid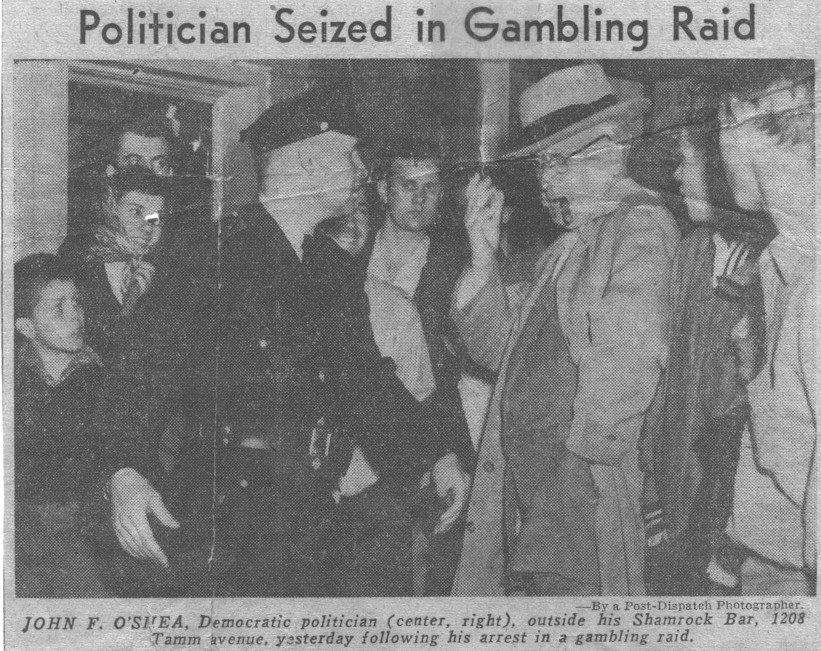 In the doorway to the left is Maureen Brady who loaned me this photo and story, and behind her, obscurrued, is Clagert Dickerson.
ST. LOUIS POST-DISPATCH
MARCH 24, 1954
High-Stakes Dice Game Raided,
Politician Jack O'Shea Held Players Flee When Police Force Entrance to Apartment -- Five Men Arrested.
Armed with search warrants and crowbars, members of the police gambling squad yesterday raided a high-stakes dice game in an apartment at 1210A Tamm avenue, premises police said are owned by John F. (Jack)' O'Shea, Democratic politician and former member of the Missouri Legislature.
Chips round on a dice table in the comfortably furnished quarters indicated that about $3000 was in play when the raiders broke up the game at 3:45 p.m. Players and "dealers" fled down an inside stairway not covered by the police, and are thought to have made their escape through the basement and a coal chute opening into Victoria avenue.
Six men, including O'Shea, who was in his Shamrock Bar, 1208 Tamm avenue, were booked on gambling charges. Tabs, cash and other evidence of a handbook operation were found in the bar. Maj. James Thompson, leader of the gambling squad, reported.
O'Shea, who is 60 years old, exhibited rent receipts for the apartment, which he said he rented to the "Parkview Club" at $100 a month. He denied knowing anything about gambling, declaring he merely "collected the rent."
The raid climaxed a long search, begun by the late Capt. Joseph A. Wren, former head of the gambling squad, for the high stakes dice game. Capt. Wren had sought the game on the premises of the Parkview Buffet, 335 DeBaliviere avenue, operated by Malachy (Mal) Maher, old-time bookmaker. Several searches failed to disclose evidence of gambling, but police continued their efforts.
Stack of Chips.
Officers climbed to the root of a garage behind a grocery below the apartment and pried bars from a window in yesterday's raid. They found a dice table, chips, dice croupiers' sticks and aprons, in the front room. A stack of chips on the table indicated that some player was wagering $400 when the raiders began prying open the window.
In a second room coffee pots were steaming, and a buffet lurch was set out. A third room contained a television set, comfortable chairs and magazines. Cigarette stubs still burned in ash trays.
When assembling for the raid, 12 members of the gambling squad wore open-necked sport shirts and jackets, in order not to attract attention. Maj. Thompson had personally scouted the premises recently from a borrowed truck he drove through the neighborhood.
Several heavy oak doors lead to the apartment. A door opening onto a hallway was equipped with a mirrored peep hole, while a wall mirror gave a full view of the hallway.
Entrance Forced.
The raiders forced entrance to O'Shea's apartment, 1208A Tamm, after reading a search warrant to two men inside, who; refused to open the door. The men said they were there on business with O'Shea.
Arrested with O'Shea were men booked as follows: Edmund P. Fanner, 6300 block of Clayton avenue; Melbourne Rittel, 61001 block of Pershing avenue; I George H. Stafford, 3500 block of Crittenden street; William B. McLaughlin, 600 block of Garesche avenue, and Edward Bochert, 400 block DeBaliviere avenue.
They were booked for police court appearances April 8, and police will present 'the evidence to the circuit attorney's office for possible grand jury action.
O'Shea, active for many years in Democratic politics in the Twenty-fourth Ward, served two terms in the Missouri House of Representatives, in the 1937 and 1941 sessions of the Legislature. The city directory lists the North Side Twenty-fourth Democratic Club at 1210A Tamm avenue.
MEMORIES FROM O'SHEA'S
From Art Smith: My best memory of Jack O'Sheas was the Sunday in March, 1944 when I had a going away party there as I left for the Navy. The bar (tavern or saloon) allowed very good customers (my father was one of the best in terms of frequency) in on Sundays. Colombo's (Tony & Mike) kept a similar practice after taking over from Goia.
Bob Corbett adds: Art Smith's comment on the Sunday back-door policy of O'Shea's reminds me of an experience that simply amazed me. My uncles tended to be fighters, perhaps an influence in the opposite direction that made me an avid pacifist. At any rate, my Uncle Rooster (Charles) took me with him up to O'Shea's one Sunday afternoon. I was 6 or 7, it was during the war. A guy came in the door and yelled out: "Where's Corbett?" Rooster held up his hand and said: "That's me." "I want you outside," said the guy, and Rooster hopped up and everyone trooped into the yard. Nothing was said and a fight started and Rooster just beat the poor guy bloody. Afterward they helped the fellow to the bar, Rooster brought him a beer and said, "What was that all about?" The guy explained that at a wedding reception the night before Rooster had beaten up his little brother and he wanted to square things. Rooster was puzzled and told him he hadn't gone out the night before. Then he remembered: "Ah, that was my brother, Bill. I'll call him for you," and Rooster headed for the phone. The guy yelled at him, "No, no. I don't want another Corbett right now!" I think I was the only person in the whole bar who found this even slightly out of the ordinary. I was drinking my Vess orange soda and my eyes must have been the size of saucers!
---
---
Bob Corbett corbetre@webster.edu