MAP AND LIST OF MINES
IN THE CHELTENHAM (DOGTOWN) AREA
The establishment of a settlement in Cheltenham (Dogtown)in the 19th century is essentially the story of mining and brick making. Those activities were not the absolute beginnings of this area's history as I've tried to make clear in other essays. However, it was the root of growth and stability and essentially defined the region from 1860 to 1900.
Dogtown is honey-combed with mines underneath the surface. Homes are built over the old mines throughout the neighborhood and as time goes on I hope to present better and better maps of the old mine sites. There have been occasional cave-ins and I'm searching for data on those as well.
Below is first a map of the mine sites. After the map is an interesting list of 25 mines which operated in the area we today call Dogtown. Actually I have been a bit generous in the geography here and have included a couple of mines that fall outside my general boundaries. (See essay on the boundaries of Dogtown). I opened the boundaries a bit since the mines were so completely central to the economy of this area in the mid 19th century until at beginnings of the 20th century. This chart, adapted from a published list:
Garstang, Mimi. UNDERGROUND COAL AND CLAY MINES IN THE CITY OF ST. LOUIS.
Missouri Department of Natural Resources, Division of Geology and Land Survey, 1987.
This map and lsit has fascinating data on mines, their locations, depths and so on.
Please note that I have used the numbering system from this long chart. The chart is for all the mines in the St. Louis area, a list numbering 95 known mines. Only the first 21 and then numbers 31, 32, 33 and 34 fall into my somewhat extended boundary line.
MAP OF THE MINES OF CHELTENHAM (DOGTOWN)
Note: The number refer to the list and details of each mine below. #7 is especially had to find on the map. It is about half way between #8 and #5. #33 is actually off the map, just a tiny bit west of #34.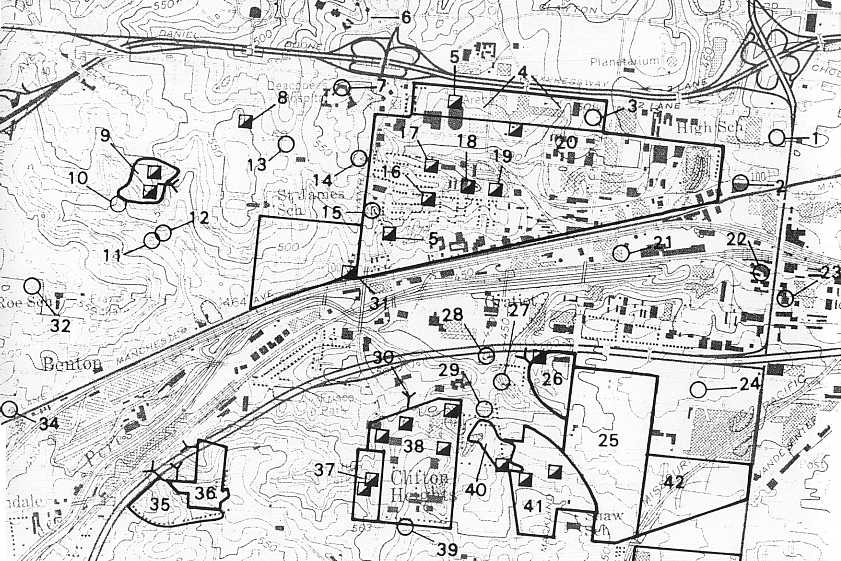 A different map of the mines may be found at:
Map of mines of Dogtown from 1905
LIST OF MINES UPDATED NOVEMBER 4, 2000
THE MINES OF CHELTENHAM (DOGTOWN)
Id
Num.
Name
Location
Entry
Depth
Commodity
Thickness
Dates of
Mining
Mineral
Comments
1.
Chouteau Mine
Along Berthold near Kingshighway
Shaft
30 foot deep
2-4 foot
Coal
1853
2.
Hydraulic Press Brick # 3
At Manchester and River des Peres (just near present day Macklind)
Shaft
75 foot deep
7 foot
Clay
1896
3.
A.C.Steuver Mine
Macklind and Berthold
Shaft
90 foot deep
Unknown
Clay
1909-11
4.
Highlands Company Mine
Macklind, Cairns, Oakland and Berthold
Shaft
26-28 foot deep
2-4 foot
Coal and maybe clay
????
5.
Unknown name
Macklind to the Arena and south to near Manchester
Shaft
40 foot deep
2-6 foot
Coal
1860s to late 1800s
6.
David Jones Mine
Forest Park beneath what are now portions of The St. Louis Zoo
Shaft
25 foot
2-4 1/2 foot
Coal
Early 1900s
Voids at 500-507 feet elevation
7.
Unknown name
Beneath Deaconess Hospital
Slope
Unknown
Unknown
Coal
1920s
8.
Gittins Mine
Between Clayton Ave. and Berthold, just west of Tamm Ave.
Shaft
100 foot
Unknown
Clay
1914-1917
Controlled 26 acres and had three shafts
9.
Highlands # 4
At Louisville, West Park, Kraft and Villa
Slope and shaft
Unknown
7 1/2 foot
Clay
1937
Once owned by Pittsburg Plate Glass -- Clay division. 7 foot wide, 6 foot high entry tunnels.
10.
Missouri Fire Brick Mine
Kraft and Dale
Shaft
44 foot deep
Unknown
Coal? and Clay
Unknown
11.
Grandview Fire Clay. Van Cleave mine
Dale near Louisville
Slope
Unknown
Unknown
Clay
1909-1911
12
Missouri Fire Clay Mine
Louisville, north of Dale Ave
Shaft
Unknown
Unknown
Clay mine
1911
13.
"Diggings"
"Dogtown" Area
Shaft
10-20 foot deep
2-4 foot
Coal
Late 1800s
Numerous small shafts to reach coal for domestic use. Many shafts in residential basements.
14.
Roberts (Hiram) Mine
Victoria, west of Hampton
Shaft
75 foot deep
Unknown
Clay
1911
15.
Henry and Hiram Roberts Mine
Sulphur and Hampton
Shaft
75 foot deep
Unknown
Clay
1909
16.
Berreshelm's Mine
Pierce and West Park
Slope
N.A.
Unknown
Clay
Unknown
17.
Mitchell's Mine
Pierce and Victoria
Shaft
Unknown
Unknown
Clay
Unknown
18.
Jones Mine
North of Manchester, Pierce, West Park and Sublette. West of Wrisburg
Shaft
75 foot deep
9 foot
Clay
1883
Possibly owned by Berresheim later
19.
Evans and Howard #7 Mine. North pit
Wrisburg between League, West Park, and Lilly, north of River des Peres
Shaft
45 foot deep
1 foot and 11
Coal and clay
1896
20.
Hydraulic Fire Clay Mine
Sublette and Berthold
Shaft
Unknown
Unknown
Coal and clay
Unknown
21.
Evans and Howard Mine
Howard Station on Mo. Pac. and Frisco Railroad.
Shaft
50 foot deep
Unknown
Clay
1855
31.
Evans and Howard #11 Mine
The northwest corner of Manchester and Hampton
Shaft
47 foot deep
6 to 8 foot thick
Coal (?) Clay
1911
32.
Cheltenham Clay Company Mine
Forest and Mitchell
Shaft
Unknown
Unknown
Clay
1916
5 acres controlled
33.
Gilker Fire Clay Mine
The northwest corner of Manchester and McCausland. Immediately west of Matthieson and Hegler
Drift
5 foot deep
Unknown
Clay
1896
Pillars robbed. 10-15 foot pillars. Entries 7 foot wide and 100 or 140 feet long
34.
Matthieson and Hegker Mine
Northwest corner of Forest and Manchester
Drift
4 1/2 foot deep
Unknown
Clay
1863-1896
11 acres mined out by 1896
Extra 1.
St. Louis World's Fair
Beneath lawn of the World's Fair Pavilion
Unknown
Coal
1903-04 and ??
---
---
Bob Corbett corbetre@webster.edu