WEST END HEIGHTS AMUSEMENT PARK
Kevin Kelly sent in a post mentioning the West End Heights. His source mentioned that this was the name of what we now call the HiPoint Theater. However, before the movies came to be, that area just west of McCausland and Clayton was the West End Amusement Park. It can be seen on this cut from a map that included the World's Fair. I have marked the West End Park in red.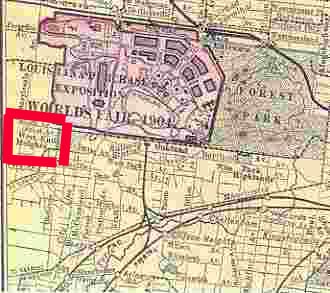 After I posted Kevin's note to our e-mail list Henry Herbst wrote me to remind me that he had loaned me a post card picturing the entrance to the West End Heights Amusement Park. I had scanned it and promptly forgotten about it. Here it is:
Louis Schmidt wrote this in his notes: "The West End Heights Amusement Center -- The street car also brought this amusement center. Not sure what this entails, was lucky to find it. West End Heights [Corbett interjects -- not the amusement center, but the area] was an area (approx.) from Hi-Point on the east, Wise on the south, City Limits on the west, and Clayton on the north. (From a 1905 plat map). I remember a post office, and a small commercial district on Oakland just inside the city limits. The post office name surely was "West End Heights Post Office." I'll find out. This center also burned in 1913. The Hi-Point theater and the Cheshire Inn are now in this location. There is no definite location of the amusement center. By 1926 the Hi-Point corner, already contained a movie theater and two gas stations. One of the stations stood on a triangle of land that had been offered to to the city as an entrance to Forest Park."
---
---
Bob Corbett corbetre@webster.edu