THE DOGTOWN NEWS
Issue No. 2
April 1945 St. Louis, Missouri

THE DOGTOWN NEWS Issue No. 2 ST. LOUIS, MO. APRIL, 1945
J.. C. MORRISEY, JR., FREED FROM REICH PRISON BY RUSSIANS
Captain Was Captured by Nazis in Italy Veteran of Salerno Invasion.
Capt. John C. Morrissey, Jr., of St. Louis, who was captured 10 months ago in Italy by the Germans, has been freed from a German prison camp in Poland by the Soviet Army, the War Department has notified his parents, who live at 3411 Magnolia avenue.
Capt. Morrissey, 28-year-old commander of the Thirty-sixth Division Infantry Company in which Sgt. Chas. E. (Commando) Kelly was serving when he won the Congressional Medal of Honor a year ago, was last reported held at Oflag 64 at Szubin, Poland. That camp was captured by the Russians last Jan. 22.
A veteran of the Salerno invasion, Capt. Morrisey was wounded Dec. 15, 1943, his birthday, but returned to active duty within two months and was presented the Silver Star for gallantry in action. He was taken prisoner last May 27 during the Fifth Army's drive toward Rome.
PRIVATE ROBERT "BOB" MARTINEAU
Private Robert "Bob" Martineau, recently freed from Billbid Prison, in Manila, where he has been held prisoner of the Japanese since the fall of Bataan in 1942. Bob enlisted in the Marine Corps in October, 1939. He was wounded twice in the historic battle of the Philippines. He attended St. James' Parochial School and is well known by a host of the old-timers. Considering his long stay in prison his condition is regarded as being very good. Bob has two brothers now serving with the Navy. Eugene at present is in England while Jim is in active service in the Atlantic.
PRISONERS
Lt. John D. Bante, 20, navigator of a bomber, who was listed as missing in action November 25, is reported a prisoner of war in Germany. His mother lives at 1037 Fairmont Avenue.
Joseph V. Bante, 19, brother of John, enlisted in the Coast Guard the day word was received his brother was missing in action. He is stationed at Manhattan Beach, Brooklyn, N. Y.
Honor Roll
John Mollick
Robert Tatum
Phillip Schwable
William Diefenbach
Charles Spicuzza
John McCauley
Louis Kinker
Glen Hinkelbin
Joe Daniels
Joseph Schmeiderer
Skip Donnelly, previously reported missing in action, is now a prisoner of war in New Brandenberg, Germany.
Manuel Haller, better known to some as Sonny Kies, was wounded last August in Argentin, France, after being in the hospital in England for three months. He was sent back to his old Company and on November 26th was reported missing in action.
On December 5th a fine little boy was born to Adrienne and Sonny Haller. If Sonny is a prisoner, we hope he gets to hear about this.
P. S. We are very happy to add this paragraph. Since writing the above, the Kies received a letter from Sonny in a German Prison Camp.
DISTINGUISHED UNIT CITATION
Cpl Frank C. Koch, 6227 Victoria ave.
Tech. Sgt. Robert G. Saxton, 6507 Nashville avenue.
BRONZE STAR
Sgt. Kenneth C. Brinsa, 1112 Louisville avenue.
COMMENDATION
Lt. James It. Porter, 6450 Oakland avenue.
THE PURPLE HEART
Tech. Sgt. George O. Casey, 32, infantryman, was wounded in action in France in January. He is the husband of Mrs. Lucille F. Casey, 5814 West Park avenue.
Pvt. Theodore C. Anville, husband of Mrs. Jo Ann Anville, formerly of 1425 Sanford street, has been reported by the War Department as wounded in action in the European area of war.
PAGE 2
THE DOGTOWN NEWS
is to be published Monthly and is sponsored and paid for by
SPONSORS
Art Schmitz
Banty Schurwan, Jr.
Ann O'Shaughnessy
T. E. Dailey
Corky Kehm
Banty Schurwan
R M. Eggleston
Catherine Doyle
Bud Corcoran
Curt Hathaway
Mrs. L. McKibbon
George Alexander
Ed. Behring
Kathleen Moran
Red McVey
Henry Reutter
Paula Capelli
Roy Gray
Vernon Smith
Mitchell Scherzinger
Red Corbett
Bud Gruner
Margaret Wack
James Dwyer
Bud Gray
John T. Surgalski
Tom Saxton
W. Tevis
Joe Haragan
John O'Shaughnessy
Paul Pursley
Mary Dwyer
Lou Belleville
Walter Coshow
Bernard Huff
Arthur Nischwitz
Bill Corbett
Martin P. Moore
Bill Thompson
Jess Lay
John E. Thomason
Doc Myers
Rolla Williamson
Bernice Rapp
Iris Tatum
Andras Braun
Charles Moser
James Brown
Marie Knichel
Elmer Weissflug
Leo Fleming
George Hall
Charles Brady
Mary Gallaher
Mamie Kelly
Mrs. M. Mayor
Benny Sudgen
Walter Droege
Charles McVey
Hugh McVey
Catherine & Red McVey
J. H. Wack
There is no charge for this publication; its purpose is to be mailed to servicemen by their friends at home. Address all news and inquiries to
DOGTOWN NEWS
c/o WHITE HOUSE TAVERN
6286 Clayton Avenue
St. Louis 10, Mo.
HOME RECENTLY
Francis "Fat" Wack, U. S. Navy; Hubie Ward, U. S. Army; Bud Reese, U. S. Army; Jim Kelly, U. S. Army; J. Eckdahl, U. S. Navy; Kenneth "Red" Roach, U. S. Navy; Bob Patterson, U. S. Navy; Bob Nischwitz, U. S. Navy; Don Jenneman, U. S. Navy; Louis Reutter, U. S. Coast Guard; Henry Reutter, U. S. Navy; Tom Duggan, U. S. Navy; Charles Schatzle, U. S. Army; Bill Godfrey, U. S. Army; John Cutelli, U. S. Coast Guard; Frank Dailey, ii. S. Coast Guard; Wm. J. Nonnenkamp, U. S. Army; Frank Darlington, U. S. Navy; Wm. Droste, U. S. Army; Bill Flanagan, U. S. Navy SeaBees; Gus Theodore, U. S. Army; Jim Theodore; Dave Droege, U. S. Navy; Jack Hruby, U S. Navy; Noreen Nischwitz, U. S. Marines.
CHANGE OF ADDRESS
Lt. (J.G.) Louis R. Moran,
U.S.N.R., S.S. Ina Coolbrith, FPO, San Francisco, Calif.
T. J. Dailey, S1/c,
Armed Guard (Pac), S.S. Chanute Victory,
FPO, San Francisco, Calif.
Pvt. John (Bud) Carney, 37623249,
Co. B, 7th A.I.B. Bn., A.P.O. 258,
c/o Postmaster, New York, N. Y.
MISSING IN ACTION
Private Jack Roth reported missing in action in Luxemburg, January 5th. Brother of Mrs. Dolores Thiele, 6654 Villa Avenue.
DOGTOWN FAMILY
(Wack's)
Heavy is the six star pin that is always worn on the lapel of Mr. John Wack, but light in comparison to the anxiety and worry that he and Mrs. Wack have for their six boys in the service. Going down the list from the eldest to the youngest, we find John, although not in uniform, representing the Wabash Railroad in a post in the nation's capital. Art, the next in line, is a Marine fighting with the Fifth Division, which recently captured Iwo Jima. Bill is in Italy with a front line artillery outfit. Bob, who flew sixty missions in the Southwest Pacific theater, is now stationed at Scott Field, Illinois. Dick, a Coast Guardsman, is now serving aboard a Liberty ship believed to be supporting the troops on Iwo Jima. Let's hope he and Art can get together. Jimmy, also in the Coast Guard, is presently on duty in the Mediterranean Sea. Frances, the youngest, is in the Navy. He is in the Eighth Task Force which recently gained a decisive victory in the great sea battle of the Philippines. These boys are well known for their athletic prowess, and seldom, if ever, has there been a team from the neighborhood that did not show a Wack on the roster. For many years the Wack family lived on Tamm avenue. Several years ago they moved for larger quarters. Dogtown has and always will be their home though, as is proven by their presence here when home on leave. We salute you, Mr. and Mrs. Wack, for your contribution, both to our community and to the armed forces.
Pvt. F. C. A. Win. Wack, 2742, Btry. B. 151, F. A. Bn. APO 34, c/o P. M. New York, N. Y.
Corp. A.. R. Wack, 889847, Hq. Service Co. 28th Marines, 5th Marine Div., c/o F. P. O., San Francisco, Calif.
Richard Wack, S.C. 3/c U.S.S. Admiral W. L. Capps, A. P. 121, Div. S. Sect. 1, c/o F. P. O., San Francisco, Calif.
L. C. Wack, S. 2/c, U. S. S. Mills, D. E. 383, c/o F. P. O., New York, N. Y.
Francis X. Wack, M.M. 3/c U. S. Mugford, 389, c/o F. P. O., San Francisco, Calif.
T/Sgt. Robt. Wack, 3718411751, Class 15745 B. U. S. Air Corps, Willow Run, Ypsilanti, Michigan.
John Wack, Jr., Traffic Mgr., c/o U. S. Rubber Reserve, Washington, D. C.
PURPLE HEART
Sgt. Victor Gacco,
Cannon Co., 143rd Inf. APD 36,
c/o PM, New York City, N. Y.
Vic is at present recuperating from wounds sustained in action.
Cpl. Arthur Lafser, 37180541,
Hq. Det. 112th Bn, A.P.O. No. 761,
c/o Postmaster, New York, N. Y.
George E. Hall for being wounded in the invasion of Italy, also for injuries received when his ship hit a mine in France.
Pvt. Vincent Cutelli, wounded in the Philippines.
PAGE 3
WE HEARD FROM
M./S. Edward Corbett, 3713586,
Hq. 444th Bomb. Group,
A. P. 0. 215,
c/o P.. M., New York City, N. Y.
Ed is now stationed in India with the B-29's, Also sent us his favorite Pin Up Gal.
T/5 W. J. Jennerman, Jr., 37605434,
Hq. Co., 220th Armed Enge. Bn. Co.,
APO.444,
c/o P. M., New York City, N. Y.
Walt writes that he craves correspondence -- how about it? /
H. P. McVey, S. 2/C,
U. S. S., L S T 938,
c/o F. P. 0., San Francisco, California.
Bob writes: "Every time I get the soccer clippings I go right through the whole game just as though I was in it myself. This makes me think of the time we played the old men."
R. E. Crowe, M. M. 2/C,
U S S Howard, D M A No. 7,
c/o F. P. 0., San Francisco, Calif.
Dick writes: "I am a long way from home but I think of the "gang" all the time. Would like to hear from them."
Maurice Cooper, S 1/C,
U. S. C. G.,
F. S. No. 387 (Army),
90 Navy No. 920,
c/o F. 1'. 0., San Francisco, Calif.
Maurice is now in the Philippines. Would like to run into some of the boys from Dogtown.
John "Josh" Hruby,
27th Reg., 48th Battalion, Co. 82,
G. L. N. T. C., Great Lakes, Ill.
We understand he is running the joint. Big help to Nimitz.
T/3 Syl "Nig" Bongner, pianist in the White House Orchestra for five seasons. Returned to the States after thirty months in the South Pacific and is now playing piano at the Wounded Officers' Club in Hot Springs, Arkansas. Syl had a thirty-day furlough here in St. Louis before going to Hot Springs. Charley Moser, Frank Hartwig, Russ Harder and Syl held a jam session the first day he was home.
John W. Gray, son of Roy A. Gray, 1016 Fairmount Avenue. John expects to get his wings in the Navy if he doesn't "washout" next month. He is stationed at Pensacola, Fla.
MY NIGHTS
By Paul W. Pursley
THE SOCIAL, SCENE: The crowded booths in Haley's Double Dip, the haven of all the teen-agers . . . much faster company than the Tamm Confectionery (Newroth's). Walter Droege and Jimmy Brown (brother to Fantastic) becoming very indignant when refused a table at the White House for their hamburgers and milk of a Saturday night -- there's no curfew on the Yankee Grill, fellows. What's that White House coming to? On the previous night the bartender was eating an ice cream cone. Wonder how that goes topped off with a cold bottle of suds. The only thing that was missing at Jack O'Shea's place on St. Pat's was the familiar faces of former years. The corned beef and cabbage was delicious, to say nothing of the mellow Budweiser, topped only by the potent high-balls served with green ice cubes. Snail Corbett was the character of the day with his black handle-bar mustache and green Keystone Cop hat. Carrying a green shillelagh and wearing an ill fitting uniform he resembled a typical Irish flat-foot. Although Jack's is usually the affair on St. Patrick's day, Pat Connolly was not to be outdone. Serving a well cooked ham to the customers along with a smooth line of chatter, the laughter and gaiety was truly a feast unsurpassed. At the finish of the parade, we come to the White House. Mary Dwyer reports a tremendous crowd, having had their fill of food elsewhere, finished out the glorious day in true Irish custom. But was it really necessary to call on Bob Sullivan and Gussie Theodre of the M. P.'s to keep order? Buddy Reese and his crowd practically took over the place. Wasn't that Dave Droege who moved in on the late watch?
HEIR-ER'S: It's a boy for the John Columbo's. Pull that chest in brother or you'll be back in service. Another blessed event for Ray Essma and his charming wife, Mary Corbett -- female. Let's have another, bartender. WHOOPS, that don't belong here.
CIRCUMSTANCES WHAT PREVAIL: The paving on Tamm Avenue, the main drag, with Macadam -- to the eye, the town's most pleasing improvement. Joe Rossomano, the shoemaker, looking sad and neglected for want of an honest card game. Young Joe was an interpreter in Italy but is now serving in France. The school yard of St. James Parish -- a monument to the ideals and years of service given the community by Father O'Connor. The only full length athletic field in the neighborhood, complete with lights, skating rink, tennis court and football field. The local "brownout" seems to be hindering the direction of some of the "regulars" from tavern to tavern. One taming the home front is really fighting for, and getting in some places, is a large glass of suds for the same pre-war price. The deserted lamp-post and mail box. on the corner of Clayton and Tamm, formerly a meeting place for the "cowboys," now going to the dogs -- literally speaking. Red McVey nursing a sore lip, claims his pet pooch nipped him in the kisser. That's a strange way to smooch.
PAGE 4
Pvt. John D. Clark, 17163412,
Hq. Btry.533rd F. A. Bn., Camp Hood, Texas, writes: Received the Dogtown News. Think it is a great idea. Makes one feel closer to home and friends. Will be looking forward for the next issue.
Sgt. Andrew Buckley, 37393796,
827th Bomb. Sqdn., 484th Bomb. Grp.,
APO 520,
c/o Postmaster, New York, N. Y.
Andy, stationed in Italy this year, while on a seven-day furlough he visited the Isle of Capri and attended mass in the historic St. Michael's Church. He has received the Presidential Unit Citation for company performance under fire.
Cpl. Edward B. Buckley, 374110798,
33rd Med. Supply Platoon (AVN),
A P O 520,
c/o Postmaster, New York, N. Y.
Stationed in Italy last year, Ed visited the Pope and was thrilled when he kissed the Pope's ring. He meets his brother, Andy, quite a bit-both being stationed in Italy. Ed also ran into Billy Godfrey, overseas 29 months.
Pfc. John .I. "Kipper" Buckley, 17601326,
9th Field Hospital, APO 350,
c/o Postmaster, New York, N. Y.
Ripper is stationed in Belgium and works in a field hospital, which he enjoys immensely. He hopes to be home soon.
R.J. Houlihan, E.M. E/C
Naval Air Base, Box 20, Navy No. 943,
c/o F P O, San Francisco, California.
Bob regrets very much the absence of a St. Patrick's night show presented in former years by St. James' Parish. Bob is corresponding regularly with Father O'Connor for some data on fishing.
Pvt. William Reese, Btry. C 91, A F A B N,
A P O 251, c/o P. M., New York, N. Y.
Billy recently spent a rest period in Florence, Italy -- the Florida of Europe.
Ray P. Kelley, E.M. 3/C
USS Wisconsin, Box 31,
c/o F P O, San Francisco, Calif.
Ray recently took part in the invasion of the Philippines, the island of Luzon. He has been to the waters of the South China Seas and visited many ports in the Orient.
Pvt. Thomas C. Marshall,
Co. B, 145th Engrs. Bn., A.P.O. No. 403,
c/o Postmaster, New York, N. Y.
Tom (Red) Marshall, who has been serving Uncle Sam for a period of four years. Being an Army Engineer, he served eighteen months on the Alaskan Highway in Canada and Alaska, and is now serving in the Third Army as one of General Patton's men. He has been overseas one year, seeing action in France, Belgium, Luxemburg and parts of Germany since D-day.
Tom doesn't believe he will be lucky enough to get a 30-day furlough to the States, but he would appreciate a three-day pass to Manchester, England, to visit an English lass, who is a hit, all right!
Pvt. James T. Lawless,
Det. of Pat. U. S. Hospital,
Plant 4192-APO 209,
c/o P. M., N. Y., N. Y.
Jimmy is doing fine in hospital in England. Lots of Luck, we're pulling for you.
Pfc. Richard M. Eggleston,
Co. B, 3rd Regt.
Indiantown Gap, Military Reservation, Pa.
Dick met Elias Knight, who played soccer with some of the boys in Dogtown. Also knows Mr. Hense and Banty Schurwan.
Staff Sgt. James Roach, 21, engineer gunner on a heavy bomber based in England, has received the Bronze Star. Missing in action in Belgium since Jan. 13, Sgt. Roach holds the Air Medal and the Distinguished Flying Cross. His wife, Mrs. Marie Roach, lives at 6413 West Park avenue.
Pfc. Erwin L. Mullin, 32, an infantryman, was awarded the Bronze Star for meritorious achievement in action against the enemy in Germany. His brothers, Ferd and Joseph Mullin, live at 1565 Fairmount avenue.
Staff Sgt. Louis Myers, 21, ball turret gunner on a Flying Fortress based in England, has received the third Oak Leaf Cluster to the Air Medal, an Eighth Air Force dispatch stated. He is the son of Mr. and Mrs. Barnett Myers, 1507 Fairmont avenue.
Pfc. Lee C. Donohue,
Hq. Bty. 168, F. A. Gp. APO 70,
P. M., San Francisco, Calif.
Lee is from Butchertown, but also known in Dogtown. Now in the Philippines. He writes that the people there are very polite and also very religious. Pat Hennessey and Bud Felhouse are with Lee.
Bernard Thiele, Rdm. 3/C, 8742511,
N. Div. U.S.S. Lowndes
APA 154,
F. P. O. San Francisco, Calif.
Berne has a new rating-congratulations.
He is now somewhere in the South Pacific. Berne went through boot training with Edgar Vincent, S2/C, U.S.S. Breese, DM18, FPO, San Francisco, Calif., and Randall Dwyer, S2/c, F.E.M.U.M.T.B. Rons.-7th Fleet, FPO, San Francisco, Calif.
Geo. E. Hall, Mo. M.M. 2/C
General Motors School of Technology, Flint, Michigan.
He and Verda met Francis Dwyer in Norfolk, Virginia. Francis took them to dinner in the Officers' Club, which they enjoyed very much. Francis' address is S.S. Alexander Lillington, F.P.O., New York, N. Y.
Pfc. Harold W. Brown, 37605403,
A P O 444, Co. 220th Armored Eng.,
c/o P. M., N. Y., N. Y.
Writes: "Well, here I am somewhere in France. Wish I was somewhere in Dogtown. At present living in a castle about 400 years old. This country knows war is hell from the looks of the people and buildings."
R. J Quirk, C 11 2/C,
U. S. N., U. S. S.
Traw-D. E. 350,
c/o F. P. O., San Francisco, Calif.
Dick wants to know how all the gang are? Says things have been quiet the past few days but it won't last. It is really hot here in the South Pacific. A cold bottle of beer would surely taste good. Had a bottle of Griesedieck last week. Surprised to find it so far from home.
PAGE 5
Pfc. Wm. O'Shaughnessy, 37613180,
Hq. Co. 544, EB&SR, 4 ESB,
A.P.O. 70,
c/o P.M., San Francisco, Calif.
Bill is now on Luzon and sends his greetings to all his friends at the White-house. He has been getting around quite a bit in the last year.
M. W. Cooper, S 1/c, U.S.C.G.F.S. 3387,
c/o Navy 920, F.P:O., San Francisco, Calif.
Maurice is now in the Philippines and is anxious to run into some of the boys from the neighborhood. Says to tell all the gang hello.
Pvt. Herbert Schmitz, 37404841, 4148
U. S. A. Hospital Plant, APO 63, P.M., N. Y., N. Y.
Herb says his leg is almost better and is doing lots of walking to strengthen it. He was flown from Paris to England. Expects to have a seven-day furlough when he is discharged from the hospital and would like to meet some of the boys in London.
Captain Edward E. Mueller, 0-308044, Hq.
460 A.A.A. Arv. Bn., APO 230, c/o P.M., N. Y.
Ewell is with the First Army in Germany. He is looking forward to coming home and many good times.
Cpl. Mack Surgalski, 37084488,
Co. 6, 131 Trng. Bn. 30 Rect., Barracks 804,
Camp Ellis, Ill.
Mack, who is a brother to the windy barber in the White-house, is now enjoying a little change in the routine after 32 months in New Guinea. He is being taught to type now. What a difference there is in typewriters.
Pvt. Thomas Brady, 37626806,
Stark Genl. Hosp., Charleston, S. C.
Tommy is intending to embark upon the battle of his life real soon. We are sorry that he will not be able to get any medals for this coming battle. Yep! He will be married soon.
Frank Morrison, R.M. 3/c is now in Minsho (that's the guy who made Rolla and Ursla Williamson Grandma and Grandpa.) Good luck Frank, and hurry home to your charming wife Bonnie and daughter Nancy.
Rolla Williamson, .Ir., ARb1 2-C,
Utility Sqd. NVJ 7, USNR, FPO, San Francisco, is still cooking with gas at Pearl Harbor and wants another issue of The Dogtown News.
DEFINITIONS
Nudist: A person you can't pin anything on.
Skeleton: A stack of bones with all the people scraped off.
Bettor: What every girl should know.
Health: What people are always drinking to before they fall down.
News: Anything that makes a woman say "For heaven's sake!"
SPORTS
St. James' soccer team won the pennant in their league at Sublette Park and went into the playoffs against the powerful Lenhardt-McManus team. The game ending in a tie, 1 and 1. St. James, battling against a strong wind, were the first to score. Billy Holmes dented the net with a powerful drive which would have taken the goalie into the net also had he stepped in front of it.
Mickey Mayor and Jack McVey were picked for the All Star Municipal Junior team.
It seems as though the younger generation from Dogtown has a different idea than their older brothers and uncles in this respect. A year or two ago it was nothing to see a couple of "guys" step out of Shea's, Pat's or the White House and start slugging it out. After a few black eyes they would return to the bar and have a few more slugs together. After seeing quite a bit of this the younger fellows decided that if they were to get their eyes blackened or their noses bloodied they wanted to be fighting for something. This year in the Golden Gloves the following boys were entered: Billy Holmes, Bobby Rooney, Bob Brady and Corky Kehm. Billy Holmes went on to win the 117 pound class for sub-novices. Bobby Rooney and Bobby Brady went to the semifinals where both were eliminated after giving a. good account of themselves. Corky Kehm met with a little stiffer opposition, however, and was eliminated earlier in the tournament. Hats off to these fellows for putting Dogtown on the map as far as boxing is concerned.
Bobby Corbett.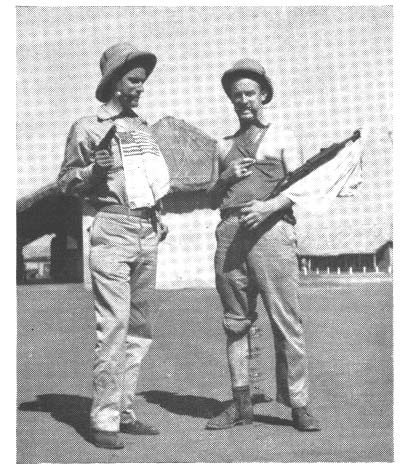 This picture was sent in to the Dogtown News by Spider Corbett and he tell us it was taken on last Christmas Day. (Spider is on the right. He is Ed Corbett)
PAGE 6
MEETING OLD FRIENDS ABROAD
A meeting took place in Paris, France, between Jack Weaver and Jerry "Buster" O'Connell on February 3rd. The missing link was Charlie "Bat" Gallaher, who had previously attended a meeting with Jack and Buster in London, England, in February, 1944, just a year ago. An attempt was made to have Charlie attend the get-together but for reasons beyond his control, he could not be present.
They enjoyed a few drinks together but time was short so they had to make hay while the sun shone. They had hoped to include Mike Brady in one of their rendezvous but at present Mike is in Holland and unable to attend.
Happy Hunting and hoping to have the next big meeting in the White House.
Estelle Hammerschmidt.
Sgt. Jerry J. O'Connell, 37384789, 76th Air Serv. Sqd., A. P. O. 149, c/o P. M., New York, N. Y.
Cpl. Chas. J. Gallaher, 37407395, 366th Fitr's Grp. 391st Fitr's Sqd., A. P. O. 151, c/o P. M. New York, N. Y.
Sgt. J. T. Weaver, 37410008, 336 Sig. Co. T. C. W. G., A. P. O. 638, c-o PM., New York, N. Y.
Lt. Adeline E. Geiger, A. N. C. No. 744423, 70th Gen'l Hospital, A. P. O. 421. New York, N. Y., and Private Vincent McInerney, 37388437, 70th General Hospital, APO 421, c/o P. M., New York, N. Y., met in Italy. They discovered they had mutual friends in Dogtown and Adeline let Vinc read a chain letter from the gang. Vinc also met Bill Wack in Africa. Bill had just come ashore and Vinc asked him if he wasn't from Dogtown. Boys had quite a talk. Must have been a surprise for Bill to land in dark Africa and have someone recognize you.
Adeline's sister, Loretta, is also in the service. Her address is Loretta 1. Geiger, S. 1/c, Sterling Hotel, 505, Cleveland, Ohio.
Lt. R. M. Hunter, 0-492104, Army Courier, 1264th AAF Base Unit NAFD-ATC, APO 788, c/o P. M., New York, N. Y., met Charles Tidd, who lived on Art Hill Place, in Africa. Bob helped Charles kill his last bottle of Canadian Club.
Lucky Bob, he met S/Sgt. Gus C. Cramer, 37415504, Signal Installation Service (S.E.S.A.C.S.) APO 4318, c/o P. M., New York, N. Y., last month
FUN AND FACTS
In a military hospital a visitor saw a badly wounded soldier from one of the Irish regiments. "When are you going to send the man home?" he asked.
"He ain't -gong home," said the orderly. "He's going back to the front."
"Back to the front!" exclaimed the visitor. "But he's in awful shape!" "Yes," replied the orderly, "and he thinks he knows who done it."
-The Communique, Camp Livingston, La.
GI's remark: What I want to get most out of this Army is me.-(Pfc. Ralph Miller.)
A hillbilly had been courting a mountain gal. At last her father spoke up: "You've been seeing Nellie for nigh onto a year. What are your intentions -- honorable or dishonorable?" The startled young blood replied: "You me n I got a choice?"
A committee was appointed by the magazine "Redbook" to study the question of how best to hold a wife, and a selected list of husbands was written to. The only reply received was from a certain western penitentiary. It stated briefly: "I found the best way was around the neck, but it should not be overdone. Please note change of address."
Road sign in England cautioning careful driving . . somewhat dismaying to American soldiers. REMEMBER! THE CHILD PLAYING IN THE ROAD MAY BE YOURS.
New Recruit: They can't make me fight.
Officer: Maybe not, but we can take you where there is fighting and you can use your own judgment.
First Private: "Why did you salute that truck driver?"
Second Rookie: "Don't be so dumb! That's no truck driver. That's General Hauling. Didn't you see the sign?"
=======================================
We have had many inquiries regarding the Dogtown News. How it started? How it is financed and where we get our news?
Its main purpose is to answer the many letters received from our boys and girls asking for news of neighborhood and their friends here in the states and overseas. It was started in the White House and, of course, we argued on many points but not the name. All were in favor of "Dogtown News."
We had thought of soliciting ads from the business men in the neighborhood to finance it and we knew they would be more than willing to subscribe, but Bernie Huff suggested having sponsors to support it and this met with the approval of all.
The sponsors listed are responsible for this news sheet and its continuance.
Bob Corbett edits our Sports column. Bob was awarded the Muny Soccer Association Cup for the Outstanding Soccer Player of 1943 and 1944.
Paul Pursley is our My Nights columnist, and Walter Winchell could not be better.
Our other news items we gather from newspapers and letters received here in the tavern, Johnny's Barber Shop and the boys' and girls' families and friends.
Red Belleville is in charge of our printing and we think he has done a splendid job.
We are glad our first issue received such a grand ovation and we will appreciate any news items sent to us.
Mary Dwyer.
---
---
Bob Corbett corbetre@webster.edu