WORLD WAR TWO MEMORIAL IN ST. JAMES CHURCH
Thanks to Bob Mirielli for this photo.
Note that on both the far left and right sides of the church, off the altar, are memories for those in the war. Below is a close-up of those memorials.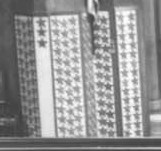 The wedding was in 1953. While it's possible these are from the Korean War it seems to me not likely since there are more stars there than I think there would have been St. James people in the war.
---
---
Bob Corbett corbetre@webster.edu