ELEPHANTS' KEEPER WILL RETIRE BUT NOT FORGET
By SUE ANN WOOD
Globe-Democrat Stall Writer
November 2, 1971
William C. (Bill) Rost, elephant keeper at the St. Louis Zoo for the last 46 years, has a memory to equal the legendary one of his giant charges.
Looking back over his long zoo career Friday as he prepares to retire next week, Rost declared that he "enjoyed every minute" of the years since he joined the zoo staff in 1930.
A young man in the Depression days, Rost had grown up in the area just south of Forest Park affectionately known as "Dogtown" by its residents and had been caddying on the park golf course since he was about 10 years old. He had made many visits to the zoo, too, because his brother, the late Phil Rost, was a keeper there.
When Bill needed a job, he joined brother Phil in a keeper's post at the old Elephant House, where he showed an immediate ability to get along with elephants — a trait not everyone has.
"They were having trouble with an elephant named Martha that hurt several keepers," Rost recalled, "but I never had any trouble with her. I was lucky. Animals— especially elephants — have got to like you if you're going to work with them."
His all-time favorite charge was Miss Jim, the elephant purchased by St. Louis school children in 1916. Rost was in charge of Miss Jim (whose real name was Judy) for 16½ years, he said proudly, and would ride on her back along with the school children who flocked to the zoo to ride "their" elephant.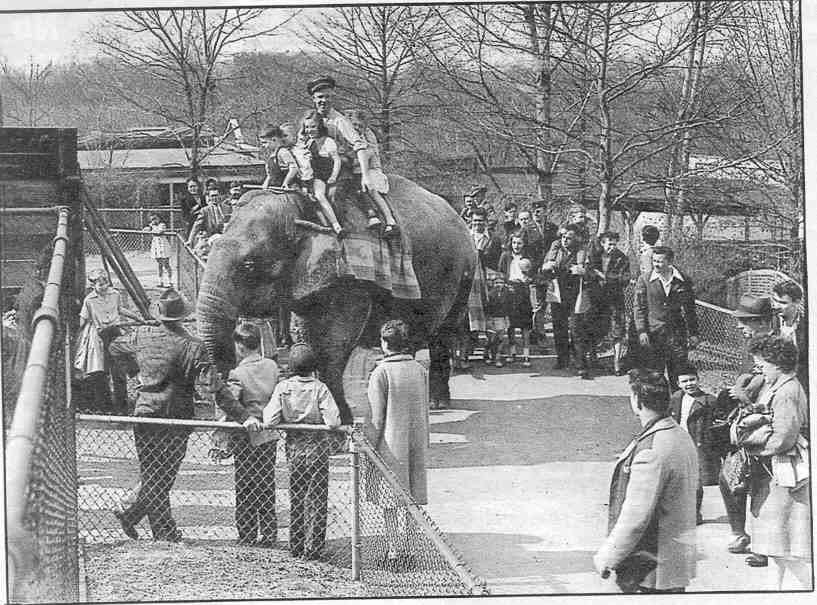 Elephant House resident that Rost remembers fondly was Harry the Indian rhino, noted for a violent temper and cage-stomping tantrums.
"He used to take bananas out of my pockets to eat," Rost said of Harry, "and I could put my hand through the bars to pet him and calm him down when he got upset."
When the new Elephant House opened at its present location 14 years ago, Rost came along with his charges and has cared for the many other animals housed in the larger facilities, including hippos, white rhinos and the performers of the elephant show. CAROLYN, the child star of the show now, is "another Miss Jim — gentle and smart just like she was," Rost said, and he acts like a proud father showing off the youngest elephant in his charge — Donna, only five months old and 3 feet high.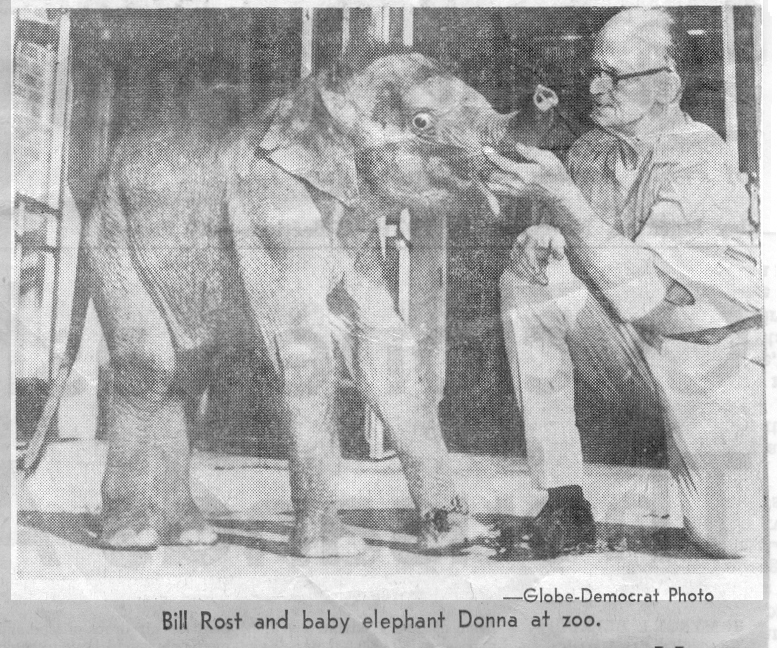 He and his wife, Scottish born Charlotte Rost, still live in the "Dogtown" area — although Rost jokingly calls it "Canine Heights" — within walking distance of Forest Park. He never has owned a car, preferring to walk to and from work. Many a night he has gone to the zoo to sit with a sick animal or cope with some other emergency. Asked what he plans to do in retirement, Rost, who is 66, said he will spend a lot of time with his flower and vegetable gardens at his neat brick home, 6534 West Park Ave. and also will play more golf. He and his wife plan to travel to visit married daughters in Miami, Fla., and Los Angeles. They also have two sons in St. Louis and six grandchildren.
Habits of 41 years are hard to break, and Rost admitted that he probably will be strolling over to the zoo grounds from time to time, to see old friends on the staff and to exchange fond reminiscences with his resident friends in the E1ephant House.
---
---
Bob Corbett corbetre@webster.edu