THE DONNELLY FAMILY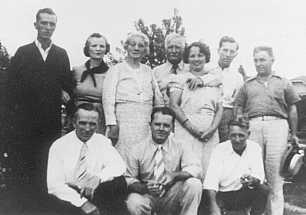 The top row from left: Leonard, Rose (Tevis), Margaret, Jim, Marie (Mueller), Walter and Charlie.

Front row from left: Jack, Neal and Bill

This photo was sent to me by

Jean Donnelly Bourdreaux mjboudreaux@email.msn.com

She writes: "(This is a) photo of the Donnelly family of Dogtown. My grandparents lived at 1471 Sproule... This photo was taken in 1932."

Jean's father, Leonard worked at Scullin Steel, then moved to Houston to help open the Sheffield Steel Company there. Her grandfather, Jim, graded many of the roads in Forest Park. While my current index of St. James graduates only has two earlier Donnellys who may or may not be related, Jean knows that St. James was the home parish of the Donnellys, so perhaps some went to school there but I don't yet have them in my records.
---
---
Bob Corbett corbetre@webster.edu