THE FAMILY OF EDWARD VINCENT AND BLANCHE RYAN
6167 CRESCENT AVENUE
By Sally Ryan Sharamitaro
February 18, 2006
Edward Vincent and Blanche DeRuntz Ryan, ages 36 and 30 respectively, moved to 6167 Crescent Avenue in Dogtown in 1908. Their children at the time were their two eldest daughters; Marie (born 1900) and Kathryn Blanche (born 1905). My father, Joseph Edward, their only son, would be born in June 1908, and their youngest daughter Helen Amelia in October, 1910.
Edward Vincent Ryan was born to Edward John (Ned) Ryan and Maria Kellyon May 7, 1872, on 1709 Carroll St. in St. Louis, Mo. Both parents were born in Mullinahone, County Tipperary, Ireland and immigrated to America as children.
Edward V. married Blanche DeRuntz, daughter of Aloyse and Amelia Diedrich DeRuntz at St. Malachy's Church, St. Louis Mo on June 28, 1898.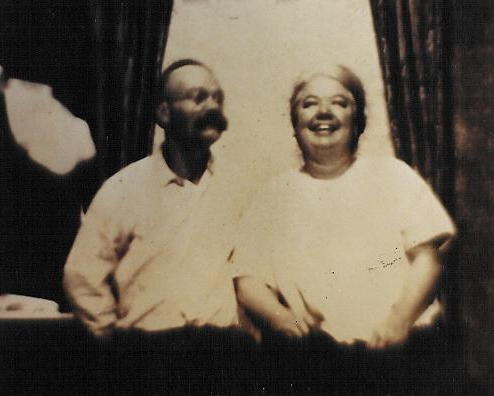 Eddie worked as did his father "Ned" Ryan, as a horseshoer and blacksmith until approximately 1925, when he opened the Ryan Gasoline Station at 6173 Crescent. (The family home facing Crescent is directly behind the station at the wedge of Clayton and Crescent.
See photos: click here
Blanche Ryan was always smiling and she is easily recognized on the photo of the St. James Mothers' Club in the May 10, 1925 issue of the St. James Let's Go Bulletin. At one time she served as their president.
Blanche and her sister Emily DeRuntz Trebilcock were not just close as family members, but for a time they were neighbors and lived right across the street from each other on Crescent Avenue in Dogtown. According to stories shared by Emily's daughter, Blanche (namesake), they enjoyed a friendly competition as they planned and served refreshments at the christening parties given for their children.
Daughters Marie and Kathryn Ryan were accomplished on the piano and their names are mentioned "at" the piano at several of the parish musical events.
Joseph and Helen Ryan graduated from St. James School in 1921 and 1924 respectively.
Sadly, Blanche DeRuntz Ryan died unexpectedly on November 11, 1927, she was 49 years old. Eddie was devastated as were all of her children, Marie, Kathryn, Joseph and Helen.
This is the notice of her death as printed in the St. James Bulletin, Let's Go. (December 4, 1927)
MRS. ED V. RYAN DIES

The sudden death of Mrs. Blanche Ryan, wife of Mr. Eddie Ryan, 6167 Crescent Ave., shocked the whole neighborhood. She attended Mass Sunday, November 6th, apparently with every promise of continued good health, and the following Thursday morning she entered St. John's Hospital where she successfully underwent a major operation. But God's Angel called that night and at 5 o'clock Friday morning she left her assembled family to deeply grieve their loss.

Mrs. Ryan, in her lifetime, gained many friends. She took an especial interest in the companions of her children, who very often gathered in her home for parties and innocent pastimes.

At her funeral Monday morning, November 14, St. James Church was filled with those who miss her and who wished to express sincere sympathy with her sorrowing family. Father Gerald McMahon, a cousin of Mrs. Ryan, and Father Patrick Melican of the Immaculate Conception Parish, Maplewood, attended the Requiem and last rites.

Let's Go condoles with Mr. Ryan and his motherless family, and prays God for the repose of the soul of Mrs. Ryan.
----------------
Sometime in the year 1930, Eddie Ryan sold the Ryan Gasoline Station on Crescent Avenue to Clem Placke, and soon after that he sold the house. Helen had married Arthur Pahl Jr. in December 1929 at St. James Church. And Joseph (my father) would marry my mother, Ruth Catherine Deegan at St. James in June 1932.
After selling the house, Eddie moved to 7228 Richmond Ave., Maplewood, Mo., where he lived with his daughter Marie until 1935 when she was accepted as a postulant (and eventually became Sister Marie Blanche Edward) at St. Mary's Convent, Clayton Road.
Eddie then moved in with his daughter Kathryn Ryan Guerich and her family at 1411 Claytonia Terrace, Richmond Heights, Mo., where he lived until he suffered a stroke and was admitted to St. Mary's Hospital on Clayton Road. Edward Vincent Ryan died January 10, 1943 at age 71, following an extended illness.
My grandfather, Edward "Eddie" Ryan, was mentioned on several other occasions in the St. James Bulletins "Let's Go". These are a few of those articles:
Cartoon from St. James Bulletin Let's Go: "Eddie's Dream" (Oct 4, 1925)




EDDIE'S DREAM
Eddie Ryan awoke the other morning after a night of tossing and moaning, and refused to speak to anyone until after he had eaten his breakfast; then he told his family what his dream had been. There were rumors for a while that he was considering changing to a "gas" of less potent reputation, but we learn that he is now reconciled to the fact that it was "only an Irishman's dream."
Article from St. James Bulletin Let's Go: (May 10, 1925)
Article from St. James Bulletin Let's Go: "Mahons' Filling Station" (Jan 10, 1926)
Article from St. James Bulletin Let's Go: "Gasoline Eddie" (Aug 8, 1926)
Article from St. James Bulletin Let's Go: Eddie Ryan, a grandfather (Oct 10, 1926)
Article from St. James Bulletin Let's Go: Eddie Ryan's latest son in law (Jan 1930)
Article from St. James Bulletin Let's Go: Son of Eddie Ryan (March 1929)
---
---
Bob Corbett corbetre@webster.edu