TIMOTHY J. DWYER, JR. PERSONAL PAGE
Birth: May 6, 1890
St. Louis, MO

Death: March 5, 1945
St. Louis, MO.

Tim is the son of Timothy J. Dwyer and Mary Garrigan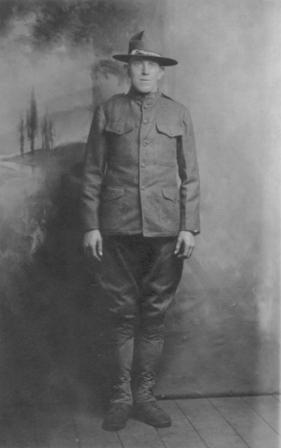 Tim Dwyer in WW I uniform

Tim Dwyer in rocker
Some comments about Uncle Tim
Bob Corbett (Robert E.)
October 10, 2007
I think I'm the only Corbett alive who at all knew my Great Uncle Tim Dwyer. He died when I was only 6, so I certainly didn't know him well.
Uncle Tim lived with John and Kate Corbett (Kate Dwyer Corbett was his sister), from at least 1915 until his death. When John and Kate moved to Dogtown in 1915 Tim was with them as was Kate and Tim's father, Timothy J. Dwyer, and Jack and Pearl Glassbrenner (Pearl was Kate's sister) also lived with them.
I knew Uncle Tim as one of the quietest men I've ever known, I don't think I heard him utter more than 4-5 sentences in all the time I knew him and I was around him a great deal. The photo above of him sitting in his rocking chair is quite typical. He sat on the porch of 6410 Wade Ave. smoking his pipe by the hour. He would laugh at the jokes and antics of the others, but Tim just didn't talk.
He had brought back quite a few "war souvenirs" from World War I. I know he had a helmet, sword and other items. In later years when I was in college and my two brothers were in elementary school they used to play with these and told me that they buried them in the (then) dirt basement behind the furnace at 6410 Wade Ave., our Grandmother's house. Since that time the new residents after Grandmother Corbett died had the dirt covered in concrete, so presumably those war souriners are still there.
Uncle Tim never married and left no descendants.
---
Bob Corbett corbetre@webster.edu