A WEIRD, FATAL DASH TO TURBULENT HAITI
Unsigned
August 11, 1958
TWO-GUN PRESIDENT helmeted Duvalier stands in his palace, still armed, after thwarting revolt.
Armed to the teeth, five American freebooters and three exiled Haitian army officers sailed from the Florida Keys in the good ship Mollie They had a fantastic plan to invade exotic Haiti, rally political dissidents to their side and take over -- then presumably get rich from the till of the island republic. On a dark night last week they put ashore at Deluge and seized a jeep to take them the 45 miles to Port-au-Prince, Haiti's capital. There, around midnight, the eight stalked into downtown Dessalines Barracks, shot an officer and captured 50 nonplused soldiers. Then the Haitian rebels phoned around town to old army friends and even to the guard of President Francois Duvalier, in the palace across the street, urging them to rise up.
That was where the weird adventure miscarried. The rebels got no response. Duvalier called out loyal troops and armed civilians, then sent his forces in an overwhelming counterattack on Dessalines Barracks. In the bloody fire-fight, all eight of the rebels were killed, and Duvalier had frustrated the weirdest plot against him since he was elected last September. "We got them," his partisans chanted in Port-au-Prince.
The revolutionary meddling of five Americans -- led by Arthur Payne, a former deputy sheriff in Miami -- worsened the already touchy Haiti U.S. relations. The day before the abortive coup a Haitian minister told newsmen in New York that U.S. Ambassador Gerald Drew should be recalled because "he is going too far in our internal affairs." The State Department angrily denied that charge. But then it turned around and apologized for the U.S. plotters. Duvalier accepted the apology grudgingly.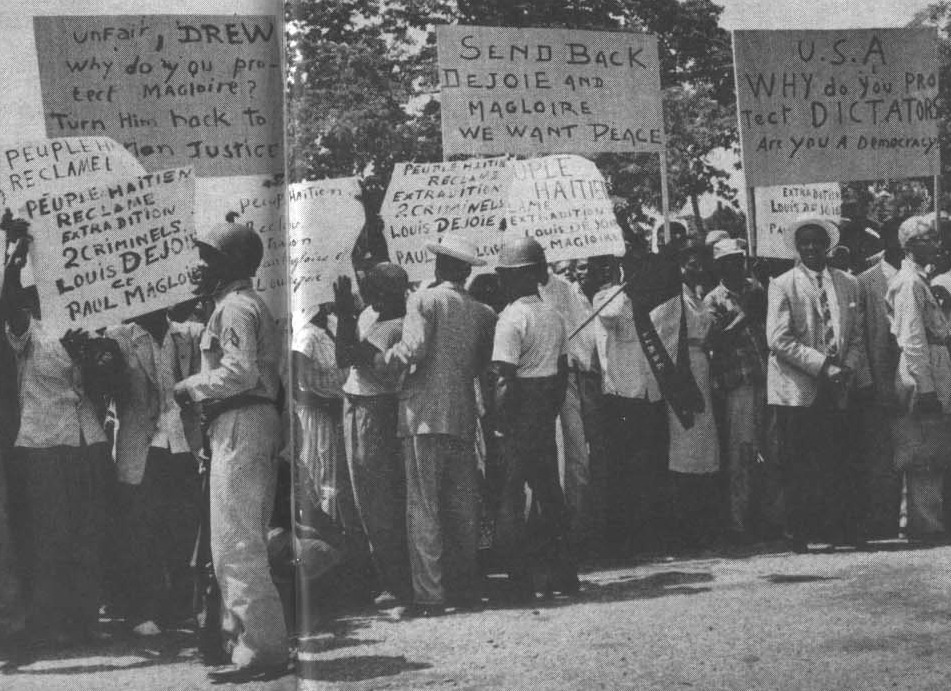 (Partial photo) Caption: OUTSIDE U.S. EMBASSY Haitians demand extradition from U.S. of ex=President Paul Magloire, who was accused of financing the either plotters, and Louis Dejoie, whom Duvalier beat in last election.
TARGET PRACTICE from bow occupies Payne as (from left) Jones, Dominique and Pasquet lounge on deck. These pictures were taken by plotters, all of whom were killed, and appear exclusively in LIFE.
---
---
---
corbetre@webster.edu