---
---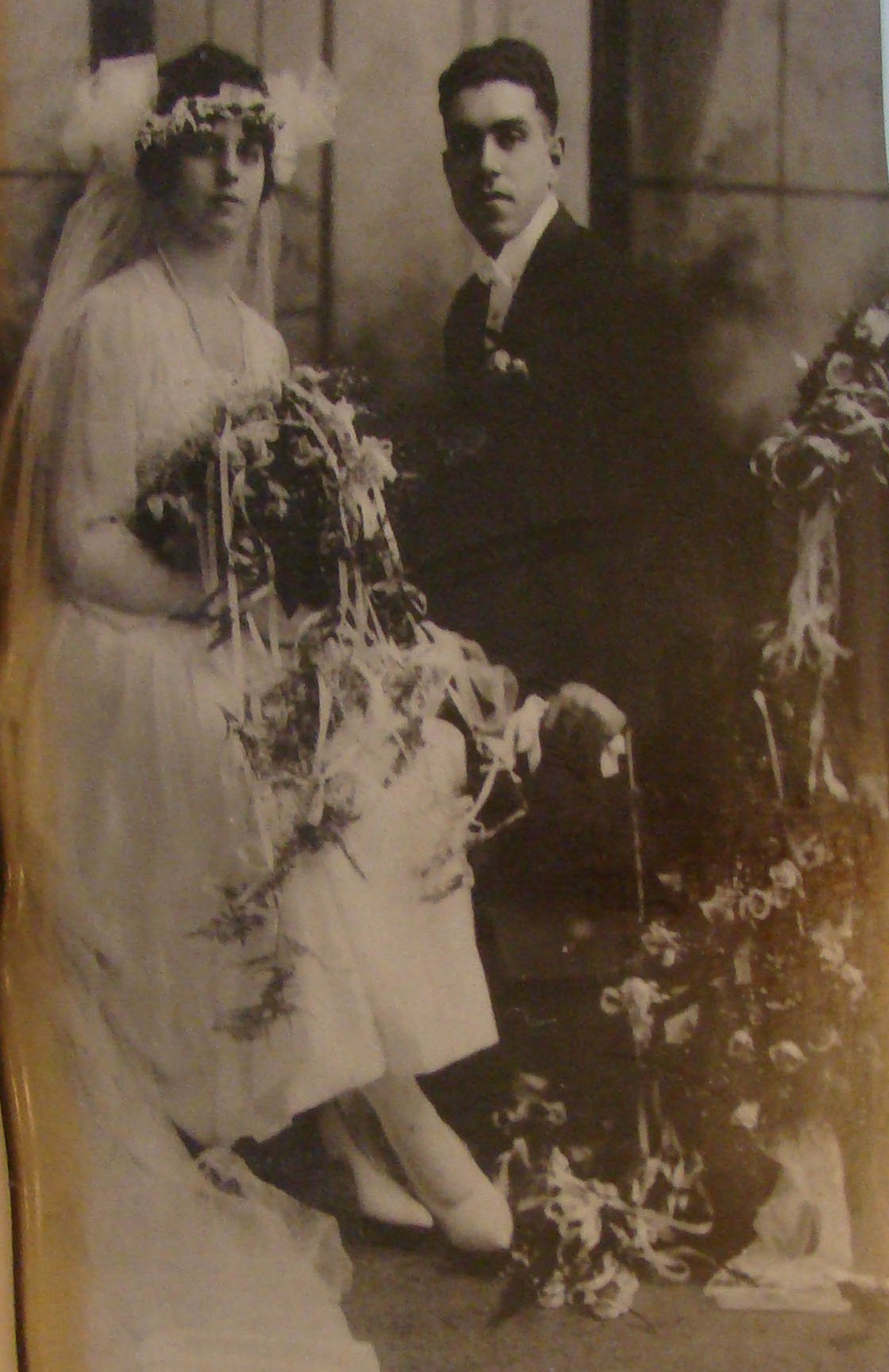 Left: 1920 Wedding Photo of Rose Gillardi and Antonio Pupillo
Special thanks to Dan Pupillo for sharing his parents wedding photo, and to my son Joe Sharamitaro for the photo-editing.
BARTOLO AND ROSA BUSACHINO GILLARDI FAMILY MEMORIES PAGE
This page contains recollections from two Gillardi family grandchildren; Joe (Joseph M Sharamitaro -1921-2017) and Rosie (Rose Sharamitaro Fresta 1925-2016), as told to Sally Ryan Sharamitaro.
Special thanks to Rose Sharamitaro Fresta for sharing two family photos, ie, her parents wedding portrait and the photo of the family with her mother as a baby. And special thanks to my son Joe Sharamitaro for his photo-editing.
BARTOLOMEO GILLARDI (1850-1909)
Neither of these two grandchildren knew much about their grandfather, who died before they were born. They did share this story told within the family that Grandfather Bartlo Gillardi "fell down the steps and died".
Note: Bartolo Gillardi was 60 years old when he died. At that time, Grandmother Rose Gillardi was 53 and widowed with four young children; Mello 16, Mary 14, Megela 11 and Rose 8.
Rosie told me that she heard that her grandfather, Bartlo Gilardi, drank quite a bit, and there were stories that he used to walk his friend home (across the alley) after they both had a bit too much to drink, and then his friend would "walk him home" and that went on for hours.
Back to top
ROSE BUSACKINO GILLARDI (1856-1922)
Granddaughter Rosie shared another story her mother told her, that her grandmother (Rose Busackino) "took in" and raised a girl that she heard was actually the daughter of her grandmother's sister. So, the girl grew up as another sister in the Gillardi family. They both recalled that she was called Nelly and that she grew up to marry Anthony "Tony" Greco.
Note: We have a little more information about this girl from the Obituary for Anthony Greco (1885-1936). It states he is husband of Antoinette(sic) Greco (nee Salia) (1896-1981).
Note: And according to her mother's obituary, Antoinette is listed as one of 6 daughters, and one son of Egnazzio S. and Filippa Spicuzza Salia.
Note: On the 1910 Census, this same daughter was listed as Nellie(sic) Spicuzza (sic) as her father's name was listed as Salia Spicuzza. Therefore the entire family was listed under the last name Spicuzza. By the 1920 Census, Annette(sic) was married to Tony Greco and they had one daughter, Marie.
Joe shared that Uncle Tony Greco was also his Godfather, and that Anthony was added to his name; ie., Joseph Michael Anthony Sharamitaro. Joe also remembered that Uncle Tony and Aunt Nelly had two girls, Vera and Mary. (A son was also added to the Greco family around 1933 and they named him Phillip Greco).
PHILLIP GILLARDI (1882-1916)
Note: No surprise that neither of these two grandchildren mentioned their Uncle Phillip Gillardi, the eldest son. Phillip was born in Termini Imerese, Sicily. And though he immigrated and married here in St. Louis, he died before they were born.
Note: We know now that Philip married Angelina Gilardi at St. Charles Borromeo Catholic Church in St. Louis, Mo., and that he was no longer living at home when his father died. As far as we know, both Gilardi/Gillardi families immigrated from Termini Imerese, Sicily, but it's unknown how or if they were related.
Phillip Gillardi was only 34 years old when he died in 1916 of Diabetes Mellitus. The illness would be proven to "run" in the Gillardi family.
Back to top
MILLO GILLARDI (1893-1947)
Joe: My Uncle Mello had three sons; Bud, Phil and Carl.
Joe said "My father helped Millo get into the produce business on third street with his son, Bud, who later worked in the postal delivery. I believe Bud died in late 2010."
Rosie shared that her Uncle Mello Gillardi was friends with her dad. And that Mike Sharamitaro helped Mello buy fruit and vegetables and set up a market either in or near the Gillardi house after his dad died.
Rosie later expanded the story of her dad, Mike Sharamitaro and her uncle Mello Gilardi (Mary's brother). "They were good friends and Mike helped Mello when their dad died, to get produce at wholesale prices at Produce Row, which they (Mike and his son Bartolo "Buddy") delivered to their mother Rosa's to be sold to support the family. Mike and Mello stayed friends "for life". "
In March 1947, when Rosie was about 17 or 18 yrs old, she said their Uncle Mello died of a heart attack (also Diabetes). She told the story like this:
"At the time, my dad, Mike Sharamitaro, was sick, (Rosie said he must have been vomiting?) … but she recalls that her mother, Mary, told Rosie to stay home and get him to drink some water. Well, Rosie said, her dad, Mike, wasn't having any of that water, she said, he just wanted to sleep.
"But there were cousins in town from Chicago for Mello's funeral and Mary had invited them to come over and have breakfast with them. During the visit (and while they were eating breakfast) Mike put his head down on the table, which upset Rose and she called her mother, Mary. The story went on too, that one of the cousins (a firefighter?) tried to put his fingers down Mike's throat? But Mary had already called the doctor, who at the time made house calls. Turned out that Mike had had a heart attack, at the time he was 58 years old."
"Mary tried to tell Mike to stay home from the funeral, but Mike went anyway. Mello was the best friend he had. Later when people asked him what happened that morning? He told them: "I knocked on St. Peter's gate, but they wouldn't let me in!" "
MARY GILLARDI SHARAMITARO (1895-1968)
Rosie enjoyed telling this story about her dad and how he, Mike Sharamitaro, went to Rose Gilardi, (sometime after her husband Bartolo died) and asked if he could marry her daughter, Mary. He was told yes, but he had to wait till she was at least 14 yrs old.
Note: I believe that Mary was 14 when her father died in 1909- so maybe the answer was yes, but that he had to wait, BECAUSE she was only 14 yrs old. They did, and the two would marry in 1914 – Mary would have been at least 19 yrs old.
Rosie did say too that Mike and his mother, Rosalia Sharamitaro, bought jewelry for Mary. Rose said that the story was that he could show the jewelry to her, but couldn't give it to her until they married.
Both Joe and Mary recalled that their mother Mary had two sisters; Margaret (Maggie or Megela) and Rose, and one brother; Millo/Mello. "Aunt Maggie married Tony Busalacki, Aunt Rose married Tony Pupillo, and Mello married Frances Mantia".
According to another story Rosie told, her grandmother, Rose, took her daughter, Mary, out of school at 8 yrs old, to help her at home.
Note: That may have happened earlier, possibly when the sisters were babies, but it's not likely that it happened when her father died.
MICHAELLA/MAGELA GILLARDI BUSALACKI (1898-1959)
Both Joe and Rosie knew their Aunt Michaella/Magela, as "Aunt Maggie".
Note: Special thanks to Antoinette Cammarata, granddaughter of Rose Gillardi Pupillo, who remembers her Aunt Michaella/Magela as "Aunt Gella"
Note: Thanks also to Antoinette, for sharing that they knew their Uncle Mello's wife, Frances Mantia Gillardi, as their "Aunt Geda"
Note: Michaella/Magela married Tony Busalacki in 1916. Uncle Tony died in November, 1947. The three sisters, Mary, Maggie and Rose remained very close.
Note: I remember Aunt Maggie Busalacki being a quiet, lovely woman. Sadly, she died in August 1959, just three months before my marriage to her nephew, Charles Sharamitaro.
ROSE GILLARDI PUPILLO (1901-1953)
Aunt Rose Gillardi married Tony Pupillo. They had five children, Jennie, Rose, Bartolo, Salvatore and Danny. They lived on Margaretta Street, next door to the Charles and Grace Sharamitaro family, and just a block or two from Mike and Mary Sharamitaro, their children grew up as close friends as well as cousins.
Note: Rose Gillardi Pupillo died in March of 1953, at just 51 years old of Diabetes Mellitus.
Please feel free to contact me with any Gillardi Family memories you wish to share.

Back to top
---
---
Bob Corbett bcorbett@netcom.com