---
---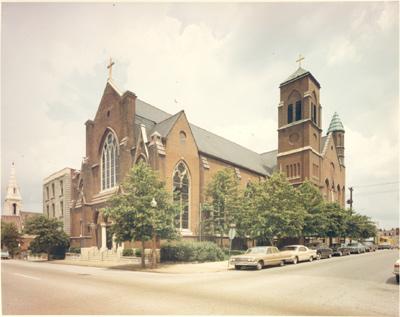 Left: Photo of St. Charles Borromeo Catholic Church, St. Louis, Missouri
THE SALVATORE & GIOVANNINA PUPILLO FAMILY RELIGIOUS CEREMONIES PAGE
On the history of ST. CHARLES BORROMEO CATHOLIC CHURCH & PARISH
The St. Charles Borromeo Catholic Parish was established in 1903. It was located at 29th and Locust Streets in the city of St. Louis, Missouri.
The parish was made up of predominately Italian families, mostly Sicilian and Neopolitan. Meaning that the immigrants from Sicily and Naples Italy felt they were joining a community as well as becoming members of the church and parish.
As members of the parish many children would not only be baptized at St. Charles Borromeo, but would, as adults, marry there also. Interestingly, notations were added to some baptismal records of later marriages, even for those who married elsewhere, creating an ongoing family history as well as a religious and parish record.
The parish was closed in 1982 and it is said that the buildings were demolished when the parish closed.
Catholic Sacraments celebrated by the Salvatore & Giovannina Pupillo Family at St. Charles Borromeo Church:
Note: Catholic Church Records are predominantly written in Latin, though some may be in a nationality language like Italian. St. Charles Borromeo records are written in Latin. Note also, there could be mispellings of certain names.
---
BAPTISMS:
10 July 1921 - Baptism: Catarina Bono - Parents: Frank & Anne Bono - Sponsors: Millo Gilardi & Francesca Mantia
06 Aug 1922 - Baptism: Giovannina Pupillo - Parents: Vincenzo & Antoinette Pupillo - Sponsors: Salvatore & Lucia Avellone
19 Nov 1922 - Baptism: Rose Pupillo - Parents: Antonino & Rose Pupillo - Sponsors: Millo Gilardi & Francesca Mantia
---
GODPARENTS
06 May 1920 - Baptism: Guiseppina Bono - Parents: Tony & Maria Palazzola - Sponsors: Damiano & Margarita Pupillo
---
MARRIAGES:
20 Oct 1912 Marriage of daughter, Anna Pupillo to Franchesco Bono - Witnesses: Franchi Bono & Lina Palazzola
10 June 1913 Marriage of son, Damiano Pupillo to Margaret Sanzone - Witnesses:
02 June 1918 Marriage of daughter, Providenza Pupillo to Giuseppi Grippe - Witnesses: Antonino Pupillo & Giuseppa Cappone
209 June 1920 Marriage of son, Antonino Pupillo to Rose Gilardi - Witnesses: Frank Scalize & Rose Spigazzi
14 Feb 1921 Marriage of son, Vincenzo Pupillo to Antoinette Avellone - Witnesses: Salvatore & Lucia Avellone
---
Back to top
---
---
Bob Corbett bcorbett@netcom.com