BOB CORBETT'S TRAVEL JOURNAL -- 2007
Italy, Austria, Budapest 2 -- April 16, 2007
Ready to leave for airport, packing list and tentative itinerary -- includes photos
By Bob Corbett
Bob and Sally packed and ready to walk out the door.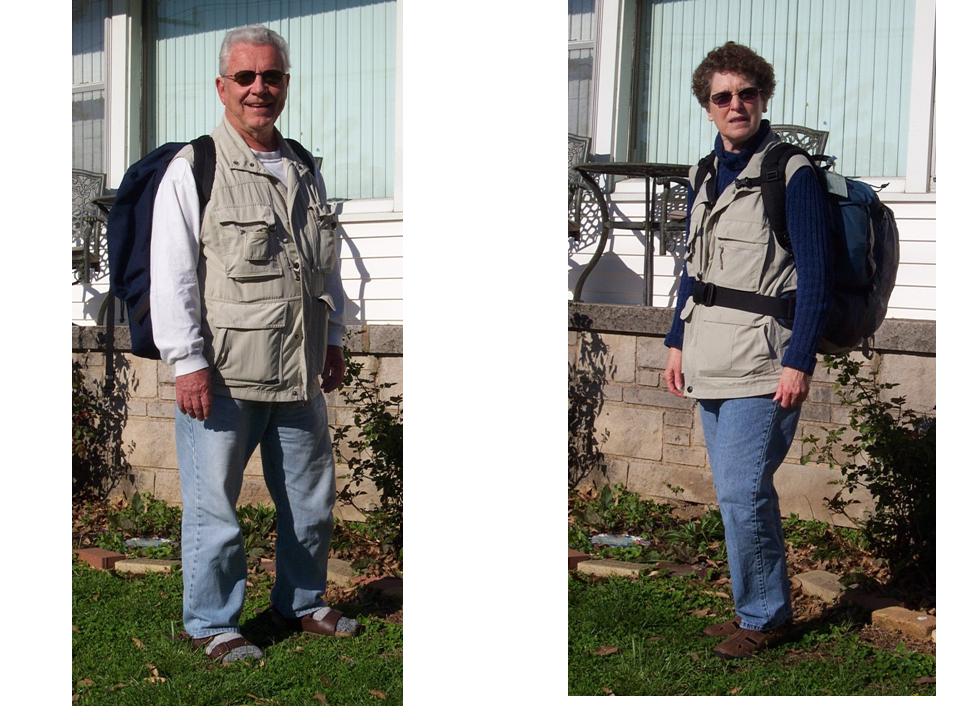 We will just walk the four short blocks up the street to the bus stop. This bus (for a mere $1.10 for seniors) will take us to the Metro stop, and the same ticket takes us INTO the airport itself. What an awesome deal. No parking, no inconveniencing anyone for a ride, no fuss. Easy and pleasant trip.
Packing list
Each of us will have one backpack. See photo above. Sally has a small purse that has straps on the back making it a small day bag as well. Each of us have a travel vest with many zippered INSIDE pockets for valuables, so large some small. Some so blasted hidden that even though I wore mine for the month long trip to Greece and Turkey last year, while getting ready for a walk in the park a few weeks ago I found a pocket I didn't even know existed.
In the backpack and travel vest we put:
BOB'S LIST

colored ribbon for suitcases when checking them
always take some food on the plane -- nuts - dried fruit
pedometer and small battery for pedometer
books
pens and notebooks
wine opener
watch
cell phone and charger
if planning any picnic – very small cutting board
pocket knife -- spoon and fork for each
small flashlight
two pair reading glasses and sunglasses
light weight rain gear
pillow case for dirty laundry
bounce for suitcase and washing clothes
shoes
socks
extra pants
tee-shirts
long-sleeve tee-shirt
sleeping clothes
underwear
special bag with all shared toiletries -- hangs in bathroom.
small shaving creams last about three weeks.
shampoo – conditioner -- small (most places have it in room)
scissors
small bathroom scissors
deodorant
toe nail clippers
cotton swabs
a few bandaids
tooth brush and paste
razor and blades
medicines and aspirin and cough supprants
various non-prescription meds – IB Profin, diarrhea meds etc.

SALLY'S LIST

colored ribbon for backpack
carry-on purse/bag and vest
food for the plane -- nuts - dried fruit
quart baggie with liquids and gels
book, pens, journal and notebooks
puffs, floss, comb,
translator (5 languages)
coin purse
small flashlight
purell wipes
magnifier
camera (Kodak 3900) and SanDisk ImageMate CF Reader
backpack
socks (extra) and shoes (wear)
extra slacks, pair shorts, skirt
tee-shirts, short sleeve
tee-shirts long-sleeve
blouses
sleeping clothes, slippers
underwear
jog suit
pillow case for dirty laundry
bounce for suitcase and washing clothes
small,light weight cutting board
light weight rain gear
toiletry bag with shared toiletries -- hangs in bathroom.
shampoo, conditioner, gel, brush
cleanser, moisturizer, foundation, blush, lipstick
deodorant
tooth brush, paste, mouthwash
medicines and aspirin
cotton swabs
a few bandaids
toe nail clippers
various non-prescription meds – tylenol, benedril, etc
Tentative itinerary list
I say "tentative" since we seldom like to be pinned to a schedule. The only reservations we have made are at the end of the trip in Vienna. Since I know the city well and have stayed in the Hotel Schonbrunn in the past, we did make reservations there.
And once we had those last days booked before coming home, we did pre-purchase tickets at the Volksoper for a performance of Mozart's Zauberflaute (The Magic Flute).
Otherwise we have no reservations for anything. The first place we go will be new to me. We will head to the small village in Sicily where the Sharamitaro family came from and Sally hopes to find some geneological information. We'll just take our chances there. The other places, Naples, Rome, Assisi, Florence, Venice, Halstatt and Graz I know well and have been to each quite a few times and know places to stay.
This allows us day by day changing of the schedule if we are ready move or or wishing to stay longer, or go to some new place not currently in our plans. We just like to travel with that freedom and uncertainty.
| | | | | | | | | |
| --- | --- | --- | --- | --- | --- | --- | --- | --- |
| Date | | Day | | # | | Start | | Sleep |
| | | | | | | | | |
| --- | --- | --- | --- | --- | --- | --- | --- | --- |
| 4/17/2007 | | TU | | 1 | | plane | | plane |
| 4/18/2007 | | W | | 2 | | Naples | | train |
| 4/19/2007 | | TH | | 3 | | Terrasini | | Terrasini |
| 4/20/2007 | | F | | 4 | | Terrasini | | Terrasini |
| 4/21/2007 | | SAT | | 5 | | Terrasini | | Naples |
| 4/22/2007 | | SUN | | 6 | | Naples | | Naples |
| 4/23/2007 | | M | | 7 | | Naples | | Rome |
| 4/24/2007 | | TU | | 8 | | Rome | | Rome |
| 4/25/2007 | | W | | 9 | | Rome | | Rome |
| 4/26/2007 | | TH | | 10 | | Rome | | Assisi |
| 4/27/2007 | | F | | 11 | | Assisi | | Assisi |
| 4/28/2007 | | SAT | | 12 | | Assisi | | Florence |
| 4/29/2007 | | SUN | | 13 | | Florence | | Florence |
| 4/30/2007 | | M | | 14 | | Florence | | Venice |
| 5/1/2007 | | TU | | 15 | | Venice | | Venice |
| 5/2/2007 | | W | | 16 | | Venice | | Halstatt |
| 5/3/2007 | | TH | | 17 | | Halstatt | | Graz |
| 5/4/2007 | | F | | 18 | | Graz | | Graz |
| 5/5/2007 | | SAT | | 19 | | Vienna | | Vienna |
| 5/6/2007 | | SUN | | 20 | | Vienna | | Vienna |
| 5/7/2007 | | M | | 21 | | Vienna/Melk | | Vienna |
| 5/8/2007 | | T | | 22 | | Vienna | | Vienna |
| 5/9/2007 | | W | | 23 | | Vienna | | Vienna |
| 5/10/2007 | | TH | | 24 | | Vienna | | Vienna |
| 5/11/2007 | | F | | 25 | | Vienna | | Budapest |
| 5/12/2007 | | SAT | | 26 | | Budapest | | Budapest |
| 5/13/2007 | | SUN | | 27 | | Vienna | | Vienna |
| 5/14/2007 | | M | | 28 | | Vienna | | Vienna |
| 5/15/2007 | | TU | | 29 | | Vienna | | Vienna |
| 5/16/2007 | | W | | 30 | | Vienna | | St. Louis |
---
Bob Corbett corbetre@webster.edu