BOB CORBETT'S TRAVEL JOURNAL -- 2006
Journal 10 -- May 24, 2006
Wild feast -- marvelous Istanbul
By Bob Corbett
Late yesterday afternoon after I sent out number 9 Sally and I went back to the place where we had eaten the day before and we ordered the grilled platter for two. I've never seen anything like it. The platter was 18 - 24 inches long and about 14 inches wide -- like a fairly large waiter's tray. It was beautifully laid out with each of us facing one half the platter with mirror offerings. Chicken, lamb, pork, all beautifully grilled. In the center was a 6 - 8 inch tall cylinder with flame coming 2 inches out of the top warming it. This burned for about 10 minutes. Mounds of delicious rice, shredded carrots, roasted egg plant, cucumbers, green salad, roasted long medium hot peppers, roasted tomatoes all decorated the platter and heaps of yogurt to dip it in and a second plate of thin and wonderful pita bread. They even had given us a free starter plate of yogurt with spices and pita bread with our FIRST beer. The beers were marvelous large half liter squat bottles of Efes Turkish beer. They went down mighty smoothly and we lingered over that platter for two hours. The chicken came in two sorts: lovely chunks of white breast meat and some chicken wings. Three small and very sweet street cats were begging, one doing everything it could to crawl into my lap. They got the leavings of the chicken wings and while I'm not too sure Sally approved of that but I did prevail upon her to give hers to the cats too.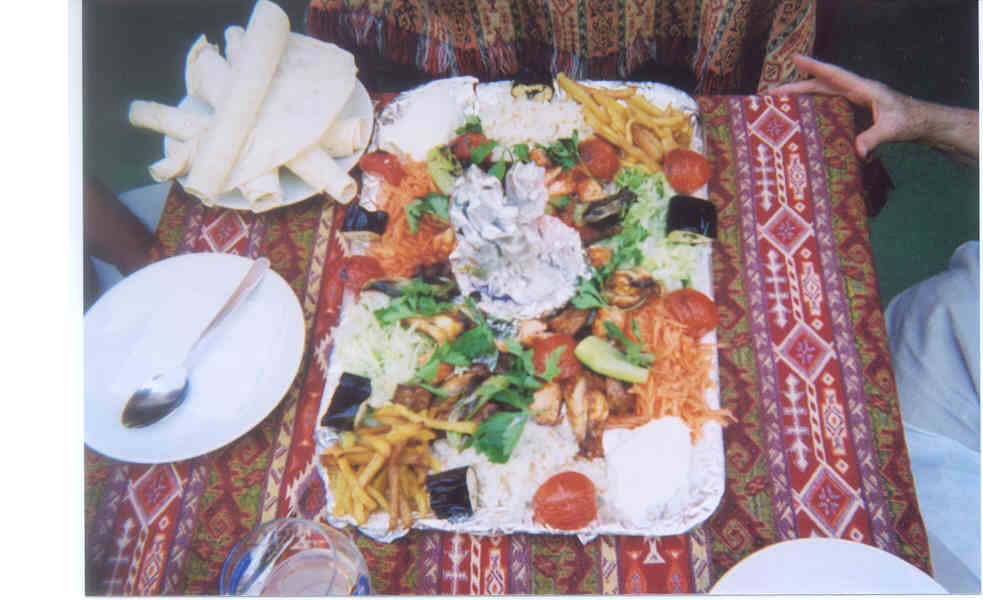 The tasty and colorful mix grilled
platter for two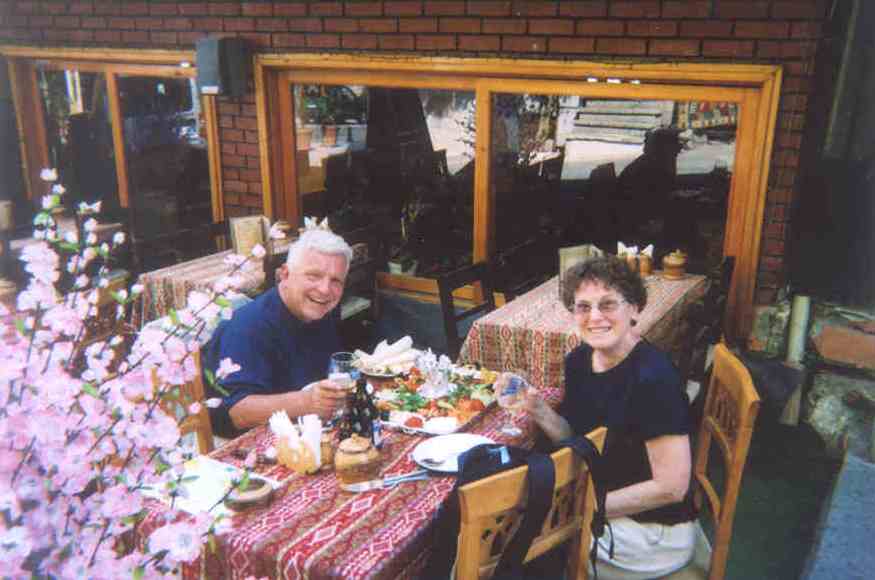 Two very happy feasters
Bob and Sally in Istanbul
We were so stuffed we didn't think we could move. As we left we stopped to look at some super sale items at a gift shop just across the narrow street and the man spoke English well and thanked us warmly for feeding "his" cats, but he did point out they weren't really his, just street cats he took care of. Of course I was most sympathetic since I feed half dozen feral cats around my house and possums too.
Some general notes:
Weather has been astounding. On the ferry coming into Santorini from Athens on our third day in Greece it was raining at 7:30 AM. But, by the time we had disembarked it had stopped. After we got our room about 1:30 PM it rained just a wee bit more, but very little. Otherwise the rest of the trip has been brilliant sunshiny days and cool lovely evenings.
Istanbul is one of the most GREEN cities I've ever been in. Huge trees everywhere, many parks, really a lovely and green place. Across the street from our hotel is a working class area, perhaps even lower class. One tree runs up a building about 15 foot; then a long long vine from the tree has been tied to the fourth floor room top of the building ACROSS THE STREET on the other side and that vine is just luxuriant on the rooftop, decorating the entire area. We look right down on that from our rooftop breakfast table.
Istanbul has an efficient public transport system. Today we walked first to the port and rode a couple ferries around the inner part of the Sea of Marmara and then hopped a bus for about 45 minutes, then a tram back to our area. We'd ridden the subway from the bus depot into the town center on our first day. Tickets are all 1.5 lira or just about a dollar. Very efficient and quick system.
We rode out to the old castle walls on the bus and found a lovely quiet and shady cemetery and walked around in it for half hour. We'd seen another in Kusadasi. D is for born and O with dots over it for death. One sees all deaths are in our numbers, eg. 1994, 1940, 2001 and such. But the birth years when before at least 1905 are in the 1300s, eg. D 1333. They must have changed calendars sometime at the turn of the 20th century.
It's a bit after 2 PM, about time for this afternoon's feast. No idea where or what. We are on a street referred to loosely as backpackers' row, filled with cheap hostels and at least 15 restaurants with outdoor seating. We may try one of these. Our hotel is just on the next street. We just wander from place to place, read the menu, go on to the end of the row, and then go back to the one that seemed to appeal most to us.
John Vezeau is on this list and before we left he sent a long note with Some great information. What he said about restaurants I really liked and think is so. John said: "If it looks good it probably is." I agree and think it is probably hard to go bad if one just checks the offerings and prices and chooses accordingly. But, if one has a question, the folks at the restaurant will try to help, even if, as in Kusadasi at the Raki and Meze, they don't speak a word of English.
I had some raki last night. We have purchased a small bottle. I don't like it as much as ouzo. Happily we still have a bottle of ouzo with us from Greece.
I have had excellent luck here in Turkey with German. Our cab driver the first day didn't speak English and was delighted to discover I could speak German which he could use. In another place or two it has come in very handy, and especially in the Grand Bazaar when I was discussing some clothes with one dealer. And it is very useful on TOUTS (guys who are supposed to lure you into a shop) since they rely heavily on English. We can duck away when I tell them that I speak German. Oh and at a wallet shop I was given much better help since that dealer spoke German too and not English. It's been a real boon. I'd always found that in Eastern Europe and in trips to Budapest, Prague, several places in Bosnia, Croatia and Slovenia in years back that I could always get along fine in German but not as well in English.
We've been lost several times and when we ask for directions to our hotel, well, people really perk up. But I never ask for directions directly to OUR HOTEL. But, just one block away from us is The Four Seasons, one of the most expensive hotels in Istanbul with their cheapest room advertised on-line at 389 Euros a night. That's well over 400 dollars. So, we ask: "Can you direct us to The Four Seasons Hotel?" Well the people are so polite and solicitous. We have to keep from giggling, not adding that we stay down from that at a 45 Euro a night place!!!! But, it gets us home....
Okay, feasting time and I can sure go a few Efes beers today. It's very hot and I'm parched.
Bob Corbett
---
Bob Corbett corbetre@webster.edu