BOB CORBETT'S TRAVEL JOURNAL -- 2006
Journal 4 -- May 14, 2006
Santorini, last day
By Bob Corbett
Greetings on Sunday, from sunny sunny, warmish (but windy) Santorini. Folks, this is one of the most magnificent places in the world. So beautiful it is breath taking. When we got here I had this dream in my head: I wanted to have a room with a balcony overlooking the caldera, the deep channel the ships come into to get here. The housing sits on a cliff high above the caldera, built into the rocks and just clinging to it's side. All the housing is brilliant white stucco, and domes, especially small churches and shrines, are typically painted a royal blue. Doors are of other bright primary colors, reds, yellows, orange and so on, and so are some walls.
But, caldera housing with a balcony and view is really high priced.
So, I found a place in the main square for Sally to sit and have tea and watch the bags and I set out to plead, beg and bargain. The result of a long time was, NO DEALS that were in our desired price range. Then I went back into one I'd been in, and tried again to bargain down. The lady gave a bit, but it was still higher than I'd ever dreamed of paying.
I went back to visit with Sally and we talked. For our first five days we were a fair amount under our daily budget, and we had decided to limit our visit here to three days (reason to follow), so we decided to splurge and hope we'd make up the difference in Turkey where it should be a bit cheaper.
Well, what an incredible choice we made. We are just where my dream had us, high on the cliff, a private balcony overlooking the caldera in a stunning room. We even have a refrigerator which HAD a complimentary bottle of wine which we took care of rather quickly.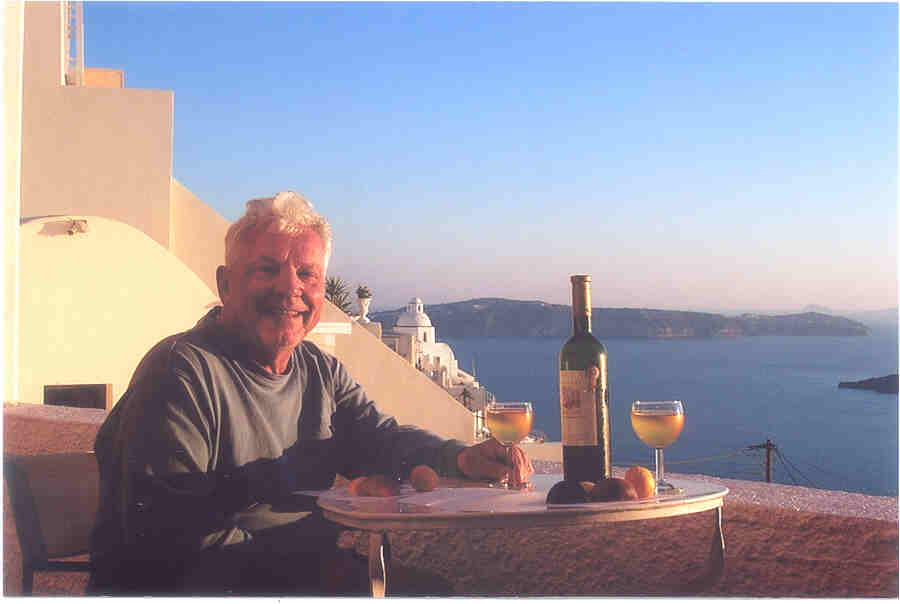 Bob Corbett at his balcony table, with a nice bottle
of Santorini white wine. The view overlooks the caldera,
the bay of Santorini, far down beneath the cliff.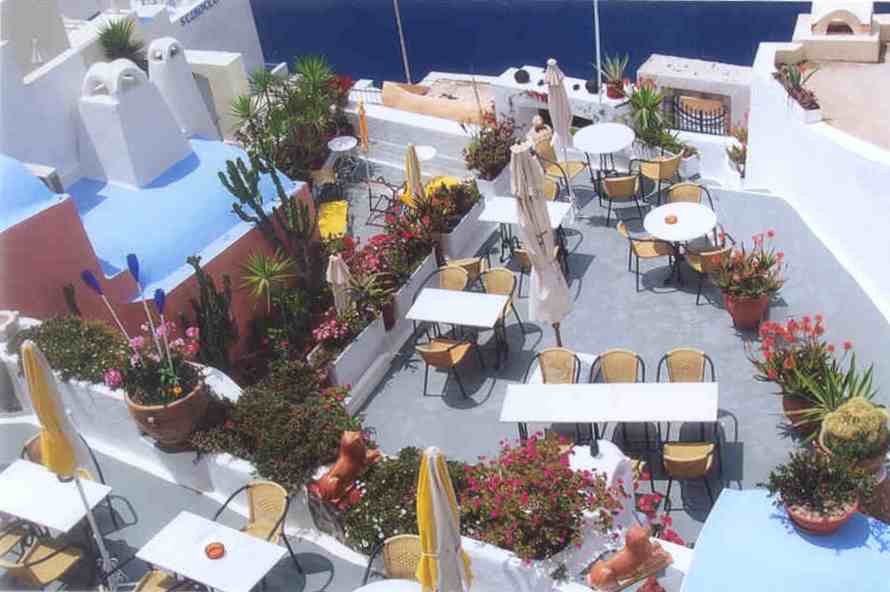 If we looked over our balcony wall, we looked down on the lower deck
(where they served our breakfast), which was still along the side of the cliff.
The deep blue in the background is the actual color of the sea there..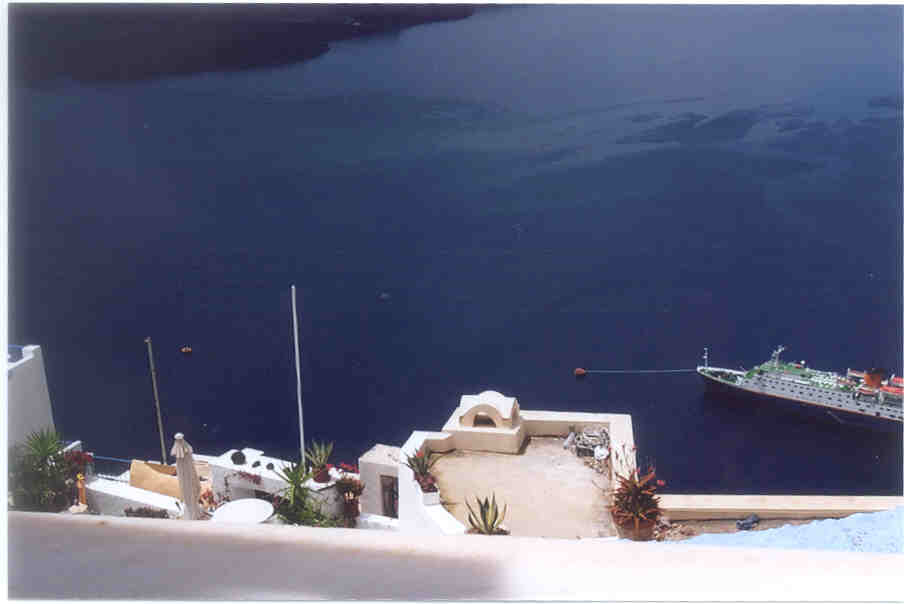 If we looked over our balcony wall slightly to the right
this ship was anchored right below our room.
We've had two nights there and will have tonight again. Last night we were home early (as almost always are, around 4 PM) and had a bottle of Santorini white wine, some fruit, a bit of chocolate and a very small bottle of ouzo. Well that all made for a delightful evening of conversation, watching the sun go down and the stars come up. We had purchased a whole $4.00 worth of fruit -- apricots, peaches and plums, and divided it up so that we have half of it for tonight as well, and we have a lovely red wine for our last evening.
Yesterday we took a bus up to IA, the cute little town at the far end of the island and I was just astonished. I had been here ten years ago and Ia was just so tiny. Now it at least 5 times its former size. But the changes were strictly regulated, no bars allowed, and very stiff other restrictions on even restaurants and such. It remains a very quiet and peaceful place, but I was just amazed at its size.
We had one major disappointment. The greatest attraction of Santorini is the scenery, the caldera, the quaintness of the main small town where we are, Fira (also spelled Thira). But the second attraction is Akratiri. This is the excavation site of a town buried nearly 2,000 years ago (like Pompeii in Italy) and has been undergoing an archeological dig for nearly a century to open it up. Ten years ago I had a tour of it and was just blown away, and I couldn't wait to see what's happened there in the ten years since I've been here -- hmmmm, it could have been 8 years, I can't keep my travels straight in my head -- However, when I asked our hostess at the hotel when the buses ran to Akratiri each day she said, "What, you didn't hear about the accident?" I allowed I didn't have any idea. It turns out that they built a roof over the top of the whole dig (it was there in rough form when I was here last) in order to keep the sun and winds and weather from destroying the uncovering of the buried village. Then, to make it more aesthetic and fitting with the site itself, they covered the roof with dirt to make it look natural. That was too much for the roof and last September it collapsed, killing only one person, amazingly and injuring scores, but not only is Akratiri closed to visitors, they believe that major damage was done to what had been painstakingly uncovered in the entire work of the 20th century digging.
A enormous tragedy for Greece and Santorini.
Thus we shortened our stay here, and tomorrow we will head off to an island where I have never been -- Mykonos, and stay there two nights, then head on again to the island of Samos and stay a few days there, then from Samos we can ferry into Turkey.
The huge highlight of these days has just been our BALCONY. Even forget the room, which is lovely, but it is the balcony and its view, but we also have two windows in the room with the exact same view.
Secondly is a brand new restaurant which just opened 3 months ago called OLIVE. It bills itself as a fish restaurant but it has a wide range of food. We just lucked into in our first day, it was sort of tucked away the corner of a building and while I was exploring the menu of one restaurant Sally noticed it. She does not eat much fish at all, but knows it is one of my favorite foods, so she kindly pointed it out. We went up and well.... that was that. Over two HOURS latter we waddled out, me having had a gigantic plate of what they just list as "little fishes" (sardines) and then I had a spaghetti bolognaise just to add a bit to it, we shared a monster Greek salad and several pitches of local wine. Sally was delighted with a lamb roast she had.
We went back yesterday and the chef, who had come out to the table to talk with us the first day was delighted. When we went into the restaurant I asked for the bathroom. To get to it one has to walk into the kitchen, as soon as I entered he yelled out -- you came back and in no time he was out at out table.
After much discussion I chose the whole red snapper and Sally got his "special." My snapper was one of the best fish I've ever eaten and I chose roasted potatoes with it. Of course we had a huge Greek salad as yesterday but drank beer with out meal. Sally's dish is the culinary leader in this first week of our gourmet tour of Greece!!! And we got a blow by blow version of it from the chef himself.
A very large chicken breast, split down the middle. A large slice of Greek hard white cheese (he said it was very close to a Swiss) is put in the middle. It was spiced and rubbed with oregano, and also had roasted peppers in the middle, some rosemary, pepper, garlic and cinnamon. Then this now-filled breast of chicken in dipped into battered eggs and placed into a very light flour batter and grilled for just a couple minutes. That whole item is now covered in a thick red tomato sauce and baked in the oven for 15 minutes.
It was one of the most stunning chicken dishes I have ever tasted, and Sally also chose roasted potatoes though he tried to get her to try his egg plant dish which he claims is awesome.
We had planned to sit there and read and have coffee (me) and tea (Sally) and split one small baklava, but we were simply too stuffed and had already been there more than two hours and had... well let's just say a single beer didn't do the trick.
So, soon we are going back there for our last Santorini meal, and the chef said that were we to come back, he would offer something very special. We'll see. I think it will take a pretty great offering for me not to just get another fish.
We typically just have one meal "OUT" a day. A lovely breakfast of rolls, some cheese spread, croissants, jelly and honey and some of the best bread I've ever tasted is our breakfast at the hotel. I get a large pot of dark rich Greek coffee and Sally sticks with her tea.
Then between 2-3 PM we typically eat our meal out, and this is awesome since almost all restaurants have no customers and we can sit comfortably for a couple hours of a huge meal, get very attentive, often individual service, and then head home by 4-5 PM, and about 7-8 we share a bottle of wine with just a few pieces of fruit and two small squares of chocolate. It is very much fun and quite economical.
Those paragraphs about OLIVE and our food habits and the clock telling me it is 2:02 and my internet card saying I had 7 minutes left -- well that's all together got my stomach rumbling, my taste buds thinking cold white Greek wine today, and I'm about ready to close it up and walk the few blocks to OLIVE.
We do have a reservation on Mykonos for a room LESS THAN HALF THE PRICE of our current one. The woman at the desk of our hotel used to work on Mykonos and when I showed here a couple hotels I was looking at in a guide book someone left in their hotel, she recognized the one and said it was quite nice, but certainly nothing like this one in Santorini. So I telephoned from our room and booked two nights in that hotel, and we already even have our ferry boat tickets for tomorrow and then for Wednesday on to Samos.
Moving on..... and just having so much fun. These few days have certainly been among the most beautiful of all my days of traveling.
Bob Corbett
---
Bob Corbett corbetre@webster.edu