Women's Intellectual Contributions to the Study of Mind and Society

Students, as part of an advanced seminar, examined and wrote about the lives of these women, their intellectual contributions, and the unique impact and special problems that being female had on their careers.

For information about referencing this paper - Click Here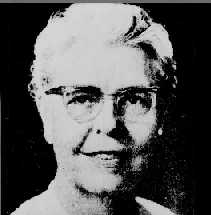 Nancy Bayley
When one gets the chance to meet or look into the life of a famous or intriguing individual, they often wonder how this person got to be so incredible in their lifetime. It becomes important how this particular individual became so experienced and intelligent in their field of work. Nancy Bayley is the type of person who automatically grabs ones' attention when talking on the field of psychology. She was a very talented individual who made a number of contributions to the field of psychology. Most of her work is concentrated around that of children, and their mental and motor development. Nancy Bayley is an extremely talented women psychologist who has opened doors and set paths for women around the world.

Nancy Bayley was not the first in her family to make significant contributions to the world and neighborhood around us. Much of her family's contributions came from grandparents who sailed around Cape Horn to Victoria, British Columbia, were her grandfather was a member of the colonial government (Lipsitt & Eichorn 1990). Her grandmother's father had established a number of coalmines, and her maternal grandparents traveled to the Northwest by covered wagon from the eastern part of the United States in the 1600s (Lipsitt & Eichorn 1990). Years later from the trip, Nancy's aunt Belle, who had survived the covered wagon trip, became a physician and drove an early model car over country terrain to make house calls (Lipsitt & Eichorn 1990). Nancy's parents settled in The Dalles, Oregon and on September 28, 1899, Nancy was born. Nancy's father, Frederick W. Bayley, headed the grocery department of a large department store in that city, and her mother, Prudence Cooper Bayley, cared for her family as well as a number of families in the community when they were in need (Lipsitt & Eichorn 1990).

Nancy did not attend public school until she was eight years old, and then entered the second grade. By age ten she had made up two grade levels and then moved on to complete high school. She entered University of Washington intending first to be an English teacher and then changed to psychology after an influencing introductory course taught by E.B. Guthrie. She received her Bachelors of Science degree in 1922, and then the Masters of Science degree in 1924. During this time she served as a research assistant at the University's Gatzert Foundation for Child Welfare, and her master's thesis involved the construction of performance tests for preschool children. Bayley then earned the Doctor of Philosophy degree just two years later at the University of Iowa, where she was then offered a graduate fellowship following her master's work in Washington. For her doctoral dissertation she accomplished one of the first studies of children's fears utilizing the psychogalvanic skin response. Bayley had written almost 200 papers, chapters, and books, the first during her stay at the University of Wyoming from 1926 to 1928, where she was an instructor. During all this time most of her career research concentrated on mental and physical growth, psychomotor development, the earliest mental functions that predict later intelligence, and environmental correlates of intelligence (Lipsitt & Eichorn 1990). From here she moved to the University of California at Berkeley and assisted one of the most well known studies of growth beginning with healthy newborns, beginning a career of over sixty years in which she carried out a number of well-known studies not only of developmental regularities but of handicapping conditions as well. This well known study is known today as the Berkeley Growth Study (Lipsitt & Eichorn 1990).

Bayley's career continued with simultaneous research engagements in psychology and anatomy at Stanford University, as well as a course on the assessment of infants and young children for the Department of Psychology at Berkeley. In 1954 she moved to Bethesda, Maryland where she joined the National Institute of Mental Health and then moved back to Berkeley in 1964. She was also associated with and helped design the National Collaborative Parinatal Project for the study of cerebral palsy, mental retardation, and other neurological and psychological disorders. During this time Bayley did marry on April 27, 1929 to John R, Reid and both of them were employed at the Institute of Child Welfare.

Bayley attended her first American Psychological Association meeting in 1925 at Cornell University and became a Fellow. She also holds Fellow status in the American Association for the Advancement of Science and was initiated into Sigma Xi, an honorary scientific society, in 1926. She has received distinguished scientific contribution awards and continuously contributed to the Society for Research in Child Development where she was president for a period of time. In 1971 she received the G. Stanley Hall Award for outstanding contributions to knowledge in the field of development psychology from APA's Division on Developmental Psychology where she also served as president. She also served as president of the Western Psychological Association as well as the Division on Adult Development and Aging of the APA. She became the first woman to be honored with the Distinguished Scientific Contribution award from the APA, as well as the Gold Medal Award of the American Psychological Foundation. She was also honored a number of times for her distinguished contributions to the study of human development. Bayley served also as an examiner the American Board of Professional Examiners in Professional Psychology, and has been a representative from the Division on Developmental Psychology to the Council of Representatives of the American Psychological Association (Lipsitt & Eichorn 1990) .

Nancy Bayley also had an incredible impact on society as well as the field of psychology. Many, if not all developmental psychologists are familiar with her pioneering studies of infant development, including evaluations of behavior in infancy, which became known as the widely used Bayley Scales of Mental and Motor Development. Nancy was well known as a pacesetter all her professional life (Lipsitt & Eichorn 1990). Her landmark study of fear using psychogalvanic skin response technique is not as well known, however this research inspired a number of other studies and helped to generate technological advances in the development of electronic instrumentation for recording bioelectric responses (Lipsitt & Eichorn 1990). As stated by the Bibliographic resources on women in psychology, her broad appeal shows that she had a huge influence not only in the field of psychology, but also with pediatricians, endocrinologists, anatomists, mathematicians, and psychologists of several different sub disciplines.

Nancy Bayley's contributions to infancy development were incredible in her day and age and continue to be used and implemented in this day and age. She has become one of the most influential female psychologists in the world today. She has had an incredible impact not only on young and old women alike, but also on a large number of males in the field as well as in other fields. Nancy Bayley died in Carmel California of respiratory failure in 1994.
References:
Lipsitt, L. P. & Eichorn, D. H. (1990). Women in psychology: A bio-bibliographic source. Westport, CT: Greenwood Press.
---
Back to Women's Page