Women's Intellectual Contributions to the Study of Mind and Society

Students, as part of an advanced seminar, examined and wrote about the lives of these women, their intellectual contributions, and the unique impact and special problems that being female had on their careers.

For information about referencing this paper - Click Here
Simone de Beauvoir
by Tarraugh Flaherty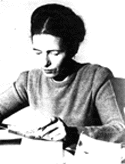 In 1908, Simone de Beauvoir was born on Boulavard Raspail in 1908. Her father had a great desire to work in theatre. However, because of his position in society he was expected to become a lawyer. He did so, but hated it. Incidentally, he had noble ties (although he was not considered a 'lord') which incidentally why Simone has the 'de' in her name. Her mother was a strict Catholic from a bourgeois family. People say that Simone was inspired to become an intellect because she was caught between her father's pagan morals and her mother's rigid religious standards.
When Simone was two and a half her sister, Poupette, was born. They became and stayed friends for life. Simone was content as a child and once wrote, "I thought it was a remarkable coincidence that heaven should have given me just these parents, this sister this life."
What had been an important and strong relationship with God slowly dwindled, as Simone became more and more interested in nature. She came to the realization that earthly joys are not to be given up (as her religion espoused) but instead, to be appreciated. This way of thinking changed Simone for life. She lived passionately and for the moment. In giving up religion she gave up the idea of living for eternity. She also developed a deep sense of aloneness, without a 'witness' or a god to talk to. This feeling lasted for quite some time as well.
When Simone was 21 she lived with her granny and studied philosophy at Sorbonne.
She joined a group of students, who, at that time, had a bad reputation. They were Paul Nizan, Andre Hermaid, and Jean-Paul Sartre. Sartre became her best friend and intellectual equal. "He would prove that he was the right one to spend time with, and he was." She said, "the double in whom I found all my burning aspiration raised to the pitch of incandescence." After meeting Sartre, she was no longer alone.
Simone's mid-life was optimistic. She had gone through the death of her best friend, witnessed the beginning of World War II, had some realizations, and began her more serious writing. It is in her second memoir, The Prime of Life, that she truly analyzed the relationship between the 'I' and the 'we'. She also wrote about autonomy, being alone and her ever growing relationship with Sartre.
She continued living with her Granny and taught at the Lycee. Because of this she became financially independent and really began to assert her abilities. She built a community of friends and went to cafes to write and give talks. Sartre was one of her favorite companions and they seemed to always be interested in each other. Their relationship became famous for the two commitments that they made to each other and the public. The first, was a promise to remain free to love other people. The second was to preserve their unity by practicing perfect honesty and total openness about everything. Together, they decided that nothing would ever be covert between them.
Simone was constantly initiating herself as a strong, not submissive element in her very public relationship with Sartre. He proposed at one time, and even though she was scared of separation at this time in her life, she declined. She felt strongly that her relationship not be institutionalized. Of course, this threw some of her closest friends and relatives into an uproar.
She may have had too high of expectations, but she maintained the courage to break concrete patterns and social taboos. She went to study German philosophy in Berlin and remained in connection with Sartre. Soon they would form a trio with a student, Olga, at the lycee. They would all stay up late at night except that, Simone, who could not catch sleep in the morning, got very sick.
She spent the next few months with pneumonia in a sanitarium. When she got out, Sartre and Olga were just friends. Simone based one of her first books; She Came to Stay, on this experience.
By 1943 Simone had, in addition to She Came to Stay, completed four more works. They consisted of The Blood of Others, Pyrrhus et Cineas, Les Bouches Intulites (Useless Mouths), and All Men are Mortal. Simultaneously, Sartre had been writing No Exit from his jail cell. The success from their work moved them into circles with Camus, Picasso, Geaorges Bataille and others.
Her ideas shifted from herself to the external and universal instances of life in her third volume, Force of Circumstance. Within this piece she discussed vital issues of the day-confusion and rage regarding human freedoms and the French/Algerian War. It is was a cornerstone piece that marked her increasing concern for problems of the world. She completed the memoir at the age of 49, eighteen years after beginning it. This is known as her most popular and dramatic work.
Next, she wrote The Second Sex, where she explains that, "...far from suffering from being a woman, I have on the contrary, from the age 21, accumulated the advantages of both sexes." And ten years later, in 1971, she completed her final book of memoirs, All Said and Done.
Later in her life, she was dedicated to the feminist movement and spoke out against the way the French institutionalized poor unmarried mothers. She was also a committed atheist who felt strongly that religion supplied a reason to evade truth.
Her writing was reflective. She worked and traveled to China, (what was then) the USSR, Cuba, Japan, Egypt, Israel, and Brazil. She stayed with Sartre until he died in 1980. Their relationship has gone down in history, not only for being the unity of two brilliant thinkers, but also for its equal and genuine qualities, so uncommon for the day.
---
Back to Women's Page