Women's Intellectual Contributions to the Study of Mind and Society

Students, as part of an advanced seminar, examined and wrote about the lives of these women, their intellectual contributions, and the unique impact and special problems that being female had on their careers.

For information about referencing this paper - Click Here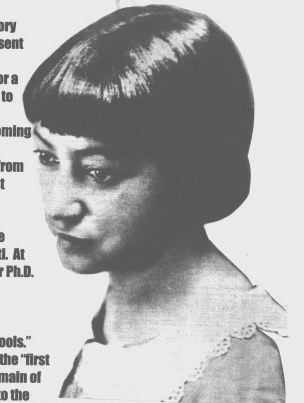 Inez Beverly Prosser
In modern day society, having a high school education as well as a college education is one of the most important things a person could do for themselves. For an individual to be educated would mean that they have spent a large amount of time and money on their career, and are deserving of a large amount of respect by the society. In the beginning of the twentieth century, however, an education above high school was not as important. For women especially, an education was incredibly rare. Even more unheard of than this was an African-American woman with a college degree. This idea was not only true because it was tough for women to get into college, but also because it was extremely difficult for African-American women to get into college. Inez Beverly Prosser was a strong willed individual who beat these odds, and had it not been for a tragic accident, would have made even more contributions to psychology and our world as we now know it.
Inez Beverly Prosser was born in 1897 to Samuel Andrew and Veola Hamilton Beverly in the small town of Yoakum, Texas (www.tsha.utexas.edu). Not much is known of her earlier years, however she was the oldest daughter of eleven children. Inez graduated valedictorian from Yoakum Colored High School in 1912 and then went on to receive a degree in teacher training from Prairie View Normal College where she was also valedictorian (Warren, 1999). After receiving her degree she went back to Yoakum and taught for a short time at their segregated schools. Inez then accepted a teaching position in Austin, where she took up classes at Samuel Huston College. In approximately 1924, she graduated with distinction from Samuel Huston with a major in education (Warren, 1999). Shortly after her graduation she married Rufus A. Prosser, a young man from Texas (www.tsha.utexas.edu).
Inez decided to continue her education with the help of awards given to her and eventually obtained a masters of arts degree in educational psychology from the University of Colorado. She then accepted a position at Tillotson College teaching education, where she was recognized as an excellent teacher and leader. This recognition as an excellent leader had given her the chance from 1929 to 1930 to coordinate a series of lectures that featured a visit by George Washington Carver. Then from 1921 to 1930 Inez served as dean and registrar at Tillotson College (www.tsha.utexas.edu). In 1931 Inez was awarded the Rockefeller Foundation General Education Board Fellowship because of her excellent and well known work as a teacher (Warren, 1999). She then accepted a teaching and administrative position at Tougaloo College, in Tougaloo, Mississippi. However the position didn't last that long and she was off to school again. In 1933 she received a Ph.D., one of the first African-American women to accomplish this in the United States, in educational psychology from the University of Cincinnati (www.tsha.utexas.edu). Her dissertation, which received a huge amount of recognition, was on The Non-Academic Development of Negro Children in Mixed and Segregated Schools. It was also one of the earliest treatises on the social domain of elementary school children (Warren, 1999).
During Inez Beverly Prosser's lifetime she was also a member of Alpha Kappa Alpha and the African Methodist Episcopal Church. She also established a fund, all while completing her own education, that enabled her sisters and brothers to obtain a college education. Of the eleven brothers and sisters, all completed high school and six completed college. Then in 1934 Inez Beverly Prosser was killed in an automobile accident near Shreveport, Louisiana (www.tsha.utexas.edu).
Works Cited:
---
Back to Women's Page