Women's Intellectual Contributions to the Study of Mind and Society

Students, as part of an advanced seminar, examined and wrote about the lives of these women, their intellectual contributions, and the unique impact and special problems that being female had on their careers.

For information about referencing this paper - Click Here
Dr. Milicent Washburn Shinn (1858-1940)
by Eric W. Codak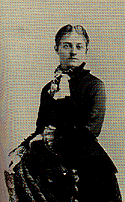 At twenty-five years old had become the editor of the magazine and published her first essay entitled "Thirty Miles". It was a description of her sights traveling to her rural home in Niles, California.
Shinn attended school while she worked at the publication. In 1885, The Overland Monthly Magazine saw some major financial problems. After some time, capital in the magazine had been raised and Shinn's optimism grew about the future of the publication (Scarborough & Furumoto, 1987).
After over a decade of successful work at the Overland Monthly she resigned as editor to go back to school to work on her Ph. D at Berkeley in 1894.
Milicent Shinn attended the University of California at Berkeley in 1874.
In December 1898 Milicent received her Ph.D. from the University of California for her highly acclaimed study on the development of a child (Scarborough & Furumoto, 1987). She had become the first woman to receive a doctorate from the university and the eleventh individual awarded a Ph.D. at the university.
Shinn's entrance into psychology was not planned. It all started with her brother's newborn Ruth. She recorded in minute detail the growth of Ruth for the next two years not really attempting a formalized outcome. She was led by the pure scientific interest of understand what a child needs are and later, what could be accomplished to better educate ourselves on infant development (Scarborough & Furumoto, 1987).
Women's Intellectual Contributions to the Study of Mind and Society

Students, as part of an advanced seminar, examined and wrote about the lives of these women, their intellectual contributions, and the unique impact and special problems that being female had on their careers.

For information about referencing this paper - Click Here



This is one of the first systematic accounts for the understanding of the child's mental and physical growth and was invited to be seen at the World's Colombian Exposition in Chicago (Scarborough & Furumoto, 1987). She entitled her work as The First Two Years of the Child

She later wrote for her dissertation The Development of a Child, which was published by the University in three installments, between 1893 and 1899.

In 1900, Shinn published The Biography of a baby, which later became one of her most popular works.

After receiving her Ph. D, Shinn gave up anymore research to care for her sick mother. She committed herself solely to her mothers health and the homestead, taking care of the mortgage and other duties.

Work in her field of study now became to time consuming and hard to keep up with. So she discontinued her career and retired.

After her mother's death, around 1913, Milicent also was in poor health with a heart condition. Now in her fifties she lived out the rest of her life, slowly getting more ill as she got older, in California until her death in 1940.

She never married or had children.

Scarborough, E, & Furumoto, L. (1987) Untold lives: The first generation of the American women psychologistss. New York: Columbia University Press.
Shinn, M. W. (1883). Thirty miles. The Overland Monthly, I, 596-604.

Shinn, M. W. (1884). Etc. The Overland Monthly, 3, 103-6. 1884.

Shinn, M. W. (1893-1899). Notes on the development of a child. Issued in 3 parts (4 no.) Berkeley, CA: University of California Press.

Shinn, M. W. (1895). The first two years of the child. In Proceedings of the International Congress of Education, Chicago, 1893. New York: National Education Association.

Shinn, M. W. The marriage rate of college women. The Century, 50, 946-48.

Shinn, M. W. The biography of a baby. Boston: Houghton Mifflin. 1900.
---
Back to Women's Page