Women's Intellectual Contributions to the Study of Mind and Society

Students, as part of an advanced seminar, examined and wrote about the lives of these women, their intellectual contributions, and the unique impact and special problems that being female had on their careers.

For information about referencing this paper - Click Here
| | |
| --- | --- |
| Dr. Lenore Walker: Victim Advocate for Battered Women | |
Dr. Lenore Walker specializes in the psychological treatment of victims, particularly victims of spousal abuse and sexual assault or abuse ("Lenore Walker," 2001). According to the Nova Southeastern University website of full-time faculty (2001), Dr. Walker received her doctorate from the State University of New Jersey (Rutgers) in 1972. Walker taught at Rutgers Medical School from 1972 to 1975. In 1975, Walker moved to Denver, Colorado, and taught at Colorado Women's College from 1976 until 1981, when the school closed. Walker also supervised doctoral students at the University of Denver School of Professional Psychology. She stopped working here in 1997 when she became employed at the Center for Psychological Studies ("Lenore Walker," 2001).

Walker has written twelve books discussing the various issues involved in domestic violence and feminist psychology, including a book entitled Battered Women ("Lenore Walker," 2001).

In 1979, Walker interviewed 1500 battered women and discovered that each of them described a similar pattern of spousal abuse ("Dynamics of Domestic," 2002). According to the "Dynamics of Domestic Violence" article, Walker identified this cycle as the Cycle of Violence. It begins with positive or close relations that develop into tension caused by anything from a bad day at work to a major life crisis. The second stage of the cycle is when the battering incident occurs, which may or may not include physical contact (it may be verbal abuse). This occurs so that the abuser can gain power and control. The third and final stage of this circular cycle is when the batterer tries to make up with the partner. He may feel guilt, but will minimize the event by claiming that it was the woman's fault that she was hit. Both partners deny the severity of the abuse, and the cycle continues. The couple is convinced that each abusive episode is isolated and that the incidents are unrelated to each other. Without intervention, the violence becomes more serious and eventually the third stage of apology and denial will no longer exist ("Dynamics of Domestic," 2002).

On January 7, 2002, Dr. Walker received the APA Presidential Citation award for her work in feminist and forensic psychology ("Faculty in the News," 2002). Walker is currently working at NSU Center for Psychological Studies and is the Coordinator of the Clinical Forensic Psychology Concentration ("Faculty in the News," 2002).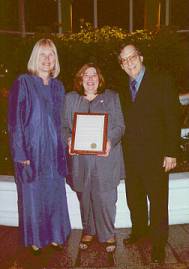 Dr. Lenore Walker Receives the American Psychological Association Presidential Citation
References
"Dynamics of Domestic Violence - The Cycle of Violence: Lenore Walker." (n.d.). Retrieved October 23, 2002, from http://www.enddomesticviolence.com /include/content/filehyperlink/holder/The%20Cycle%20of%20Violence.doc

"Faculty in the News" (2002). Retrieved October 24, 2002, from Nova Southeastern University, Faculty in the News Web site: http://www.cps.nova. edu/news/faculty.html

"Lenore Walker, Ed.D., ABPP." (2001). Retrieved October 24, 2002, from Nova Southeastern University, Full-time Faculty Web site: http://www.cps.nova.edu/ /faculty/Ffultime/walker/walker.html
---
Back to Women's Page