---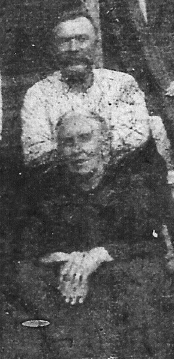 Left: Photo of Bridget Dunn Ryan with husband "Ned" Ryan - date unknown
DUNN FAMILY MEMORIES
These memories were sent to me by Margaret Burns Wilhauk (Great-Granddaughter of Bridget Dunn Ryan)
On her trip to Ireland
"I had the pleasure of visiting Ireland two years in a row researching Dunns and Ryans. I must say the parish priest at St. Michaels in Mullinahone couldn't have been more helpful. He pulled out the old registers and let me see the pages where my great-great Ryan grandparents (Dennis & Ellen Mullaly Ryan) marriage records were entered and also the baptisms of their children. I learned that my great grandfather's name wasn't Edward Ryan as we had thought but was actually Edmund. They left Ireland ca. 1847 and I was the first of their descendants to go back to Mullinahone and Killahy, Ireland. He (the priest) then took us to the right cemetery. signed, Marge Wilhauk"
Back to top
On Edward/Edmund J. "Ned" Ryan
Edmund was born to Denis and Ellen Mullaly in Mullinahone, Tipperary, Ireland. He immigrated to the U.S., and eventually to St. Louis, where he first married Maria Kelly who bore their 4 children but died at 26 yrs old. Ned then married Bridget Dunn Ryan in 1876 and they had 6 more children.
On Bridget Dunn Ryan
Bridget was born to Timothy and Margaret Dunn in Mullinahone, Tipperary, Ireland. To St. Louis with her parents as an infant. Married "Ned" Ryan in 1876 after his first wife, Maria, died leaving 4 small children. Ned and Bridget had 6 other children; Maria, Vincent, Timothy, Margaret, Joseph and a baby that died as an infant. She married "Ned" on May 7, 1876. I'd like to find a state census taken in 1875 to see where Bridget was living as she supposedly left home after her brother died and her father didn't need her to take care of him and the brother anymore. He had a wife to look after "himself".
Bridget was born June 2, 1847 and died Feb 24, 1917. She and her brother Timothy (d: 11 Jan 1870) are both buried in Calvary.
Back to top
On Timothy and Margaret Dunn
I have a handwritten note signed by Timothy Dunn supposedly written in his own hand that says:
"my wife, Margritt (Ryan) Dunn died Sept 27, 1849, signed Timothy Dunn".
I have no information on when Timothy died. Bridget was grown when he married again and she left home then. Don't know who is 2nd wife Kate was, just that she was his "wash woman" and Bridget didn't approve. Don't know if he was married in church or by a J.P …. Apparently he was a Catholic so maybe the diocese will have a record. Maybe he was buried in Catawissa, MO. His wife had relatives there and they went there to live for a time after Margaret died.
Back to top
On Children of Timothy and Margaret Ryan Dunn
I think Grampa Dunn eventually came back to St. Louis and had a grocery store where the public library is downtown. There was one child Mary, who died in Ireland in 1839 before they came over. The Dunn children here were Lawrence, born Oct 17, 1839 & who ran off with the Union army at a very young age and disappeared; Patrick who died in 1854 at age 10; Timothy, who died of TB in 1871 at age 29 in St. Louis, (so the family must have been living there at that time, at least he was) Bridget was 23 when her brother Timothy died and had been keeping house for her father and I assume her brother as well, as he was unmarried.
On Patrick Ryan (brother of Margaret Ryan Dunn)
He lived (and had a grocery store) in Catawissa, may have died there in 1854. Bridget may have gone back there after her father remarried.
Many thanks to Margaret (Marge) Wilhauk for sharing these wonderful memories
Back to top
---
---
Bob Corbett bcorbett@netcom.com