PHOTOS OF BIRDS SEEN BY BOB AND SALLY IN FOREST PARK, ST. LOUIS, MO.
Below are photos of birds we've seen and either taken, or been with the person who took the photos.
Please e-mail me at the address below if you would want to be on my e-mail list of announcement and discussion of birds seen in the current year either in Forest Park or my Dogtown back yard feeding center.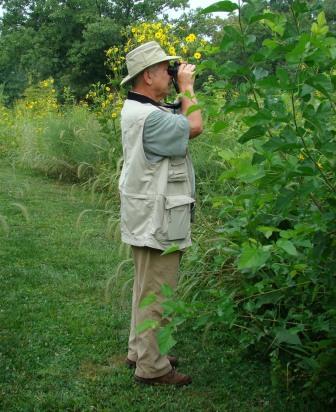 Bob Corbett hunting birds with binoculars in Forest Park
Photo by Sally Sharamitaro
April 2008
BIRDS ON MY "YARD-BIRD" SIGHTINGS PAGE WHICH I'VE ALSO SEEN IN FOREST PARK4> The birds listed in the chart below are ones I've seen in BOTH Forest Park and my own backyard. Since the distances are closer and the birds often have stopped moving to eat food I've put out, we tend to get better photos of them in the yard than park. So, if you click on any bird below you will go to the photo on page on my yard bird page.