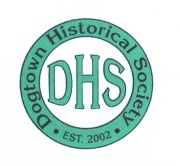 NEW DOGTOWN HISTORICAL SOCIETY FACT SHEET AND MEMBERSHIP APPLICATION
---
---
PURPOSE: To discover, document, educate, and disseminate the history of Dogtown.
FOUNDED: March 16, 2002 by a group of residents and former residents of Dogtown.
MEETINGS: Second Saturday of the month, 10:00 a.m.
POINTS OF CONTACT:
Bob Corbett
314-647-6704
Web Site Bob Corbett: http://www.webster.edu/~corbetre/dogtown/dogtown.html
ORIGINS OF THE NAME:
In 1852 the first four miles of railroad track were laid for the Pacific Railroad. That was as far as the Cheltenham Hotel, a hot springs resort hotel on the (then) beautiful River Des Peres. Until this time there was very little settlement in this area, and the Hotel/Resort was the only business.
Soon, with the railroad available it became possible to mine the rich deposits of fire clay and to make brick. Cheltenham became a mining community and there were brick factories as well. The area became settled.
Part of Cheltenham was known as "Dogtown". This was a common name to be associated with a clay mining region. Two Dogtown Historical Society members, the late Michael Gittins, and Tom Haller, did research which showed that there were a large number of communities in the U.S. called Dogtown, and that many of them were also clay mining communities. When clay miners dug the surface clay they used a tool much like a WWII fox hole shovel, and leaned over forward with the shovel held straight down and while backing up, scraped the dirt off the surface clay. Another man, usually with a donkey cart, followed up, shovelling the clay into the cart.
These men who were digging much like a dog digs, were called "doggies." They were said to live in "dog shacks" and their area was called "Dogtown."
We have documented newspaper evidence from 1888 that the name "Dogtown" was an area of Cheltenham.
In later years the name "Dogtown" was used for an ever widening area, and eventually became the common nickname for the whole area served by the Dogtown Historical Society.
CURRENT PROJECTS:
Web Site http://www.webster.edu/~corbetre/dogtown/dogtown.html



History of Dogtown through narratives, maps and photos, ie., grade school classes, businesses, historical homes and sites, sports teams, family stories of Foreign War Veterans, etc.

Veterans Memorial Park

To honor those Dogtown Veterans who have given their lives in foreign wars, the DHS has planned and is completing arrangements for the park itself, a special memorial stone and a brick patio. The formal dedication is to be held on Memorial Day 2011. See DHS home page for further information.


Street Musicians Festival

To honor former Dogtown professional musicians, the DHS invites local street musicians to perform for the Dogtown neighborhood. The first Festival was held September 11, 2010. See Street Musicians Festival page.


Motor Club

Founded in 2010, the Dogtown Motor Club was created by a group of Dogtowners and friends of Dogtown, who have motor collectibles, ie., cars, trucks, carts or motorcycles, and they gather together for Car Shows on various occasions. See Motor Club Page.


Living History


Video interviews with elderly seniors who live or have lived in Dogtown, capturing the experiences and memories of the early 20th century. To date, DHS has interviewed 17 seniors and their videos have been placed in the DHS achieves.

Century Homes


Celebration of Dogtown homes over l00 years old, certified by the organization with documentation by the City Land and Property Department. See the website for photos. To date, more than 1000 homes have been certified. Various owners have purchased and displayed Century Home Plaques created for their individual home.

Dogtown Grade Schools

Documented history of the neighborhood grade schools: St. James the Greater, Dewey, Roe, and Gratiot. DHS continues to collect, catalogue, and identify grade school class photos from 1903 to the present.

Genealogy


Utilizing the resources at the Missouri Historical Society and the St. Louis County Library, DHS has research and documented the United States census for the years 1900, 1880, 1870, and 1860.





PAST PROJECTS:

St. James Quilters Association


History of quilting as practiced in Dogtown capturing the creativity, beauty, sociability, and sense of community history. Video of quilts now in DHS archives.

Speakers Series

Free presentations to the community on topics related to Dogtown history and adjacent places of interest. Programs presented in the past include: 150th Anniversary of the Dogtown Rail Line; History of 19th Century Dogtown/Cheltenham: History of St. James Parish; An Evening with Julie Duane, Musician and Poetess; The 1904 World's Fair; The Forest Park Highlands Amusement Park; and The Founding of Forest Park. All presentations were held in the St. James School Cafeteria, 1360 Tamm, St. Louis, Missouri.

Ghost Signs

Restoration of advertisement signs that had been painted onto brick walls of commercial buildings throughout Dogtown

SPECIAL PROJECTS

DHS hosted "Civil War Days in Cheltenham" in October 2004. This was a reenactment of the raid on the United States Post Office in Cheltenham by Confederate Soldiers. Cheltenham (Dogtown) German Immigrants, U.S. Postmaster August Muegge and his wife, were attacked on Sept. 29, 1864 at the Post Office and grocery store. The Sons of Ancestors of the Civil War produced a reenactment of the raid. They set up encampment in Franz Park. All programs were open to the public.

---

---

DHS Membership Application __________________Date

Name:___________________________________Email:____________________________

Address:_________________________________ Home Phone:______________________

City, State, Zip:_____________________________________________________________

Grade School:________________________Graduation Year:_______________________

Please send to Bob Corbett, DHS Treasurer, 1419 Tamm Ave., St. Louis, MO 63139. Contributions begin at $20 annually. Donations beyond $20.00 are most welcome.
---
---
Bob Corbett bcorbett@netcom.com